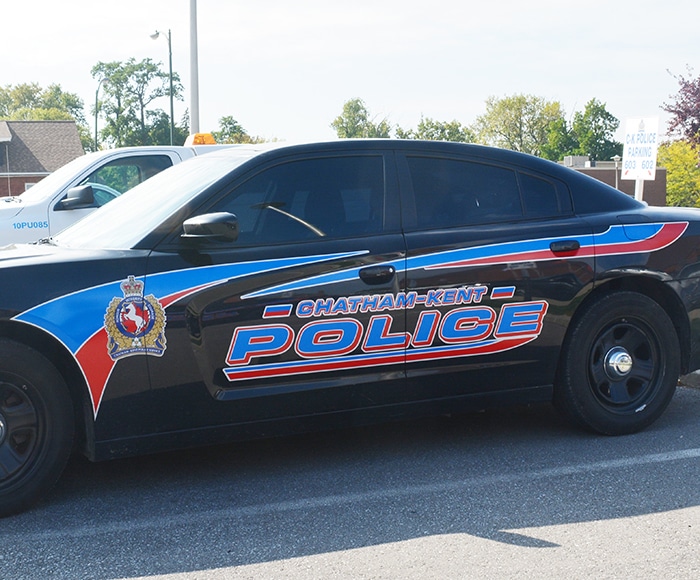 Woman freaks out at local gas bar
Denied smokes because she didn't have photo ID, a woman went a bit wild yesterday afternoon at a Chatham gas bar, according to Chatham-Kent police.
It took place at a gas station on Richmond Street in Chatham. Police got the call and pieced together what happened.
Officers learned the woman went to the gas station to purchase cigarettes, but was denied when she could not provide photo identification. 
The woman started yelling at the cashier and swung her fist towards the cashier, striking the plex-glass barrier instead, police say.. The woman then walked over to the cooler area and drank two containers of chocolate milk without paying for them.
A 27-year-old woman of no fixed address was arrested and charged with theft, possession of stolen property and assault.
Cops confiscate some strange weapons 
Yesterday, police responded to a domestic dispute at a residence in Wallaceburg.
Through investigation, police found the man to be in possession of a kukri knife, stun gun, expandable baton and replica airsoft pistol. 
A 29-year-old Wallaceburg man was arrested and charged with being in possession of a weapon contrary to a Prohibition Order and three counts of failing to comply with his Probation Order. 
Woman charged with assault
On Monday, police received information that a vulnerable man was being assaulted by his wife and caretaker.
Yesterday, a 60-year-old Chatham woman was arrested and charged with assault with a weapon. 
Breach of probation 
Last year, the man entered into a Probation Order with several conditions. One of those conditions stated that he was not to communicate with a specific Chatham woman.
Three guesses as to what police said he did yesterday…
According to police, the man called the woman and sent her a series of text messages. 
A 35-year-old Blenheim man is charged with failing to comply with his Probation Order. 
Fail to comply
On July 29, a man was sentenced and ordered to attend the Courthouse on the next business day to provide police with a sample of his DNA. 
The next day rolled around, and police say the guy was a no show.
Around 3:30 a.m. this morning, police observed the man on Victoria Avenue in Chatham and he was arrested. 
A 42-year-old Dresden man has been charged with failing to comply with a court order. He is being held in police custody pending a DNA sample being obtained. 
Dude, you need plates
Yesterday morning, shortly after 8 a.m., an officer on general patrol observed a man driving an unplated motorcycle on Victoria Avenue in Chatham.
A traffic stop was initiated and a 38-year-old Chatham man was charged with driving a motor vehicle with no license, no license plates or insurance. 
Collisions
Yesterday morning, police responded to a two-vehicle collision on St. Clair Street in Chatham between Regency Drive and Pioneer Line. 
No one was injured. Total damage was estimated at $10,000. 
A 67-year-old man was charged with changing lane – not in safety. 
— 
Last night, police responded to a single motor vehicle crash on Kent Bridge Road between Talbot Trail and Eds Line. 
No one was injured. Total damage was estimated at $5,000. 
The driver, a 19-year-old Blenheim woman, was charged with careless driving.