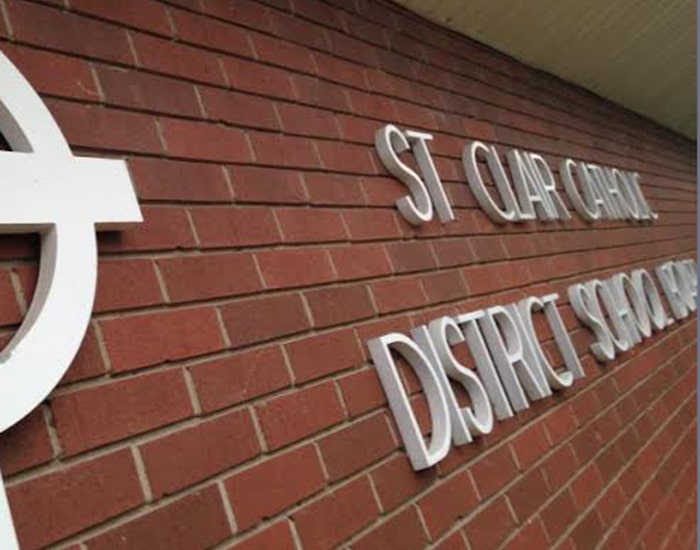 By Jenna Cocullo, Local Journalism Initiative
The St. Clair Catholic District School Board (SCC) has released its plan for back-to-school.
Under provincial guidelines, all school boards across the province will be going back to a full attendance model. 
Secondary schools deemed high risk will follow the half-and-half virtual and in person learning program. 
Chatham-Kent's secondary schools fall under the full-time category.
The academic year for SCC students will be broken down into octmesters (eight terms) with only one class taught the whole day.
Credit requirements have not changed. Although only one course will be taught per octmester, course time will still total the 110-hour requirement.
Ministry guidelines allowed for one-subject-a-day or two-subjects-a-day models.
The public school board opter for quadmesters (four terms) with two classes taught each day for 150 minutes (2.5 hours) per day.
READ MORE:  Public board outlines back-to-school strategy
Students are expected to stay with their cohort as much as possible during lunch hours and recess. No further details were released on lunch programs, sports and extracurricular activities.
The 25-page document released by the board Friday evening is just a framework for its school reopenings. The fully detailed plan is expected to be released later this week.
SCC took a survey of how many students are opting for the in-class return.
Parents and guardians have an Aug. 28 deadline to inform SCC of their decision if they haven't already, or to change their minds. 
After the deadline, there will be limited opportunities for students to switch between in‐person classroom learning and teacher‐led online learning at home. 
Parents/guardians who opt to switch after August must give the school advance notification. 
The schedule to accommodate the moves for elementary schools is: 
Nov. 12, with advance notification by Oct. 22;

Feb. 3, 2021, with advance notification by Jan. 12, 2021;

April 20, 2021, with advance notification by Mar. 30, 2021; 
The schedule to accommodate the moves for secondary schools is Feb. 3, 2021, with advance notification by Jan. 12, 2021.
SCC has two back-up plans if the COVID-19 situation gets worse during the academic year. One plan is for the half-and-half learning model, and the other is for full virtual learning. CK Public Health and Sarnia-Lambton Public Health Unit can implement further restrictions on the schools in their respective jurisdictions should the pandemic situation worsen during the academic year.