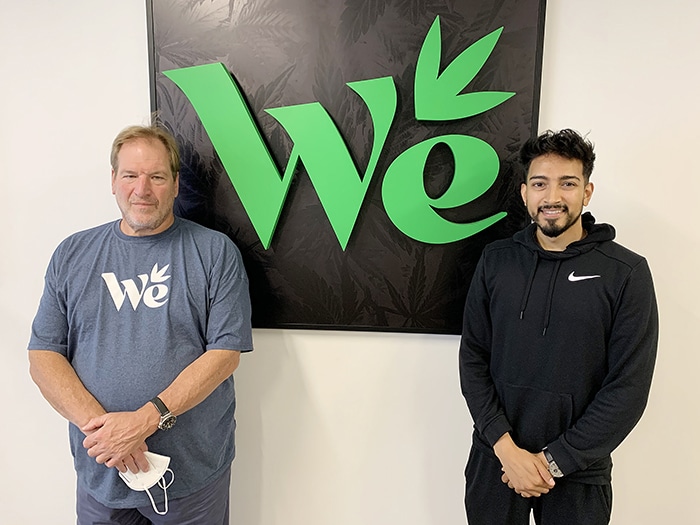 By Bruce Corcoran
The people behind Chatham's first cannabis store, The We Store, hope to be open on Saturday.
Rob Katzman, a Windsor-area businessman and a driving force behind The We Store brand, said the company hopes to take possession of product Friday and open its doors at 427 St. Clair St. the next day.
"This is our first store," he said. 
A spokesman with the Alcohol and Gaming Commission of Ontario (AGCO) confirmed The We Store has received a Retail Store Authorization (RSA) from the provincial body.
Once the store takes product, AGCO officials will conduct a final pre-opening inspection to confirm the store is ready to open and following AGCO guidelines.
Katzman said The We Store chain has another dozen stores in southwestern Ontario built and just waiting for product and final approval by the provincial government. In all, the brand could have as many as 60 stores in the region when they are done.
Katzman said he and his wife, Alissa, started in the cannabis business in 2018 in Alberta a few weeks after marijuana became legal in Canada.
"We did very well and we thought we could introduce it to Ontario," he said.
Katzman said he has roots in Chatham, as his father once owned a restaurant here, and he worked there and at The Wheels Inn. 
"We're anticipating really strong results for Chatham," he said. "We are really looking for ways to fit into the community, with charity events, park cleanups and more. Our interest is to be looked at in a very positive way in Chatham."
THC, or tetrahydrocannabinol, is the main psychoactive component in cannabis.
CBD, or cannabidiol, doesn't provide the high. It can, however, be used to relieve pain, reduce anxiety and depression, and even alleviate some cancer treatment side-effects such as vomiting and nausea.
The We Store will sell a variety of cannabis-related products, from actual bud to infused beverages and most everything in between, Katzman said.
"We will do all the basics, dry flower, sativas, indicas, hybrids and balances. We also have a lot of emphasis on CBD because we have an older clientele. They don't want the effects of THC," he said. "We find that 60 per cent of our customers are beyond the age of 50."
He and We Store general manager Moe Zahid said fewer than 20 per cent of the population are cannabis users at this point, however, they project those figures to go as high as 80 per cent in the future.
"We're very excited on our data and what the future holds," Katzman said. "We know how to sell cannabis and we know how to sell it safely."
They also plan to offer variety.
"Our advantages or our differentiation points between us and the competition is we carry a lot more inventory, a lot more diverse inventory, such as edibles, ingestibles, vapes, topicals, and cannabis-infused drinks," he said.
Katzman said old-school marijuana consumption was to smoke it. While the majority of legal users still take this route, he said studies indicate that only about 60 per cent of users do so.
That's where the edibles and ingestibles come into play.
Katzman and Zahid will oversee operations of The We Stores on behalf of principal owners DeeAnn Cervini, David Petretta and Kaztman's wife, Alissa.
Katzman said working with the provincial government has been a good experience.
"We find that the Ontario government has actually been fantastic in many different ways. The supply is tremendous, for starters," he said. "Ontario is accomplishing what it set out to do. They wanted to make sure it is safer for underage people under 19. We go through hell to make sure underage people cannot come in here. They can't even look inside the door. We have these age gates so they can't see in the open door."
For now, The We Store will have no local competition. The spokesman for AGCO confirmed no other stores have received an RSA in Chatham as of yet. But the AGCO website indicates they have received applications for seven other cannabis stores in Chatham, as well as two for Blenheim.