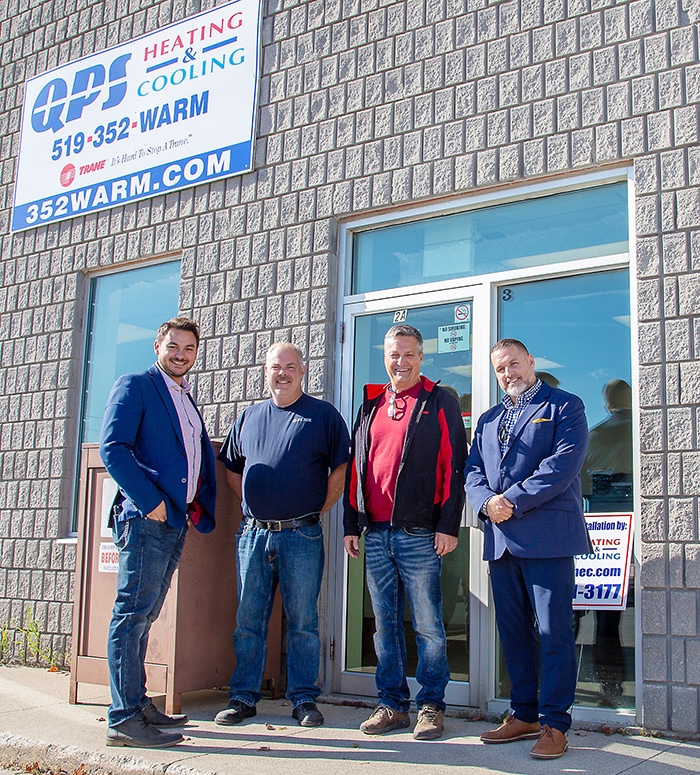 Following a fire that destroyed the commercial building at 7 Hart Place in Chatham in early October, three local businesses are back up and running thanks to the support of the community.
The fire, which rendered the building unsafe for QPS Mechanical, 7 Farms Down, and Dave Polowick Design, has also shown the strength of the business community in Chatham-Kent.
"The industry and community support were overwhelming," said Jay Glasier, co-owner of QPS Mechanical, in a media release. "We received e-mails and phone calls from customers, suppliers, and even our competitors asking if they could help. Even though the fire was a tragic event, it helped us all remember how grateful we are to work in such a supportive community."
Dave Polowick, of Dave Polowick Design, said, "I can't believe the outreach from people in our community. All of the help, offerings of space for temporary offices was overwhelming. Chatham-Kent is such a tight-knit community and people really showed us that."
Perhaps hardest hit was QPS Mechanical, which has operated in Chatham-Kent for more than 20 years. QPS, an HVAC business, lost the majority of their production equipment that was located on the shop floor.
"It's fortunate that we had contingency plans in place and were able to find a new space, temporary equipment, and key components for some of our more complex jobs," said Glasier. "In about 24 hours, we were back up, operational, and working on filling our customers' orders."
Jason Guttridge from 7 Farms Down added, "Thank you so much to the municipality, the fire department, and Chatham-Kent Economic Development. They were on site immediately and have been invaluable ever since, helping all of us to work through some of the unexpected hurdles. I can't thank them enough."
"Everyone thinks you'll have time to calmly pack up and clear out of a building when there is a fire, but the reality is that when Jason ran into my office warning me that the building was going up, we had about 60 seconds before my entire room was filled with thick black smoke," said Polowick. "So I focused on the essentials and was able to save a computer and, of course, my 26-year-old iguana, Charlie."
Within a couple of days, all businesses were operating out of temporary locations thanks to the support of local businesses who offered space. Dave Polowick Design is now operating out of 361 Colbourne St. in Chatham, while QPS Mechanical and 7 Farms Down are operating and open for business out of 71 Sass Rd. in Chatham, right beside The Chatham Voice.
"When Economic Development is out in other communities talking to business owners, investors, and entrepreneurs about how Chatham-Kent offers them a special kind of place to grow, these are the situations that offer proof at just how unified the community can be," said Anthony Wilson, Economic Development Officer. "I never want to see tragedy like this befall any business, but if it does, it's good to know that the people of Chatham-Kent step up to help.