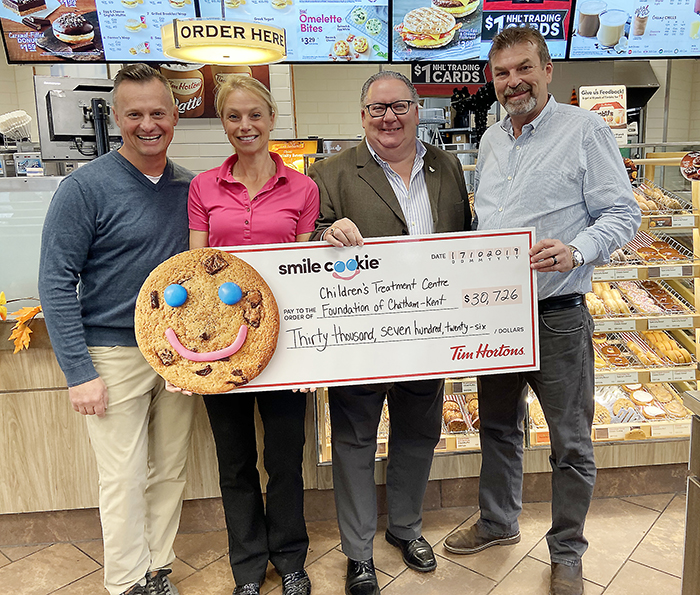 What's better than a cookie that tastes good? A cookie that does good!
That from the Children's Treatment Centre Foundation of Chatham-Kent.
From Sept. 16-22, the Tim Hortons Smile Cookie Campaign supported charities in communities across the country, including the Children's Treatment Centre Foundation of Chatham-Kent – one of 550 Canadian charities, hospitals and community programs supported through the annual campaign.
During that week, local Tim Hortons owners Guy Pritchard and Mike and Paula Grail donated local proceeds from every Smile Cookie sale towards the Butterfly Building Campaign.
Recently, they presented the CTC with a donation of $30,726.
At present, daily therapy and counseling sessions and individual case management is squeezed into the existing 25,000 sq. ft. site on Lark Street in Chatham and centre officials said they are running out of space and are in need of a new expanded building.
The CTC has grown from serving 224 children and youth in 1984, to now serving a total of 3,690 in 2019. That's an increase of over 1,000 per cent in caseload. By 2020, the CTC-CK will serve 4,500 clients; which equals to one in every five Chatham-Kent children.
Tim Hortons' Smile Cookie campaign began in 1996 as a way to help raise funds for the Hamilton Children's Hospital, and has grown to become a major fundraising event at Tim Hortons restaurants.
Comments
comments