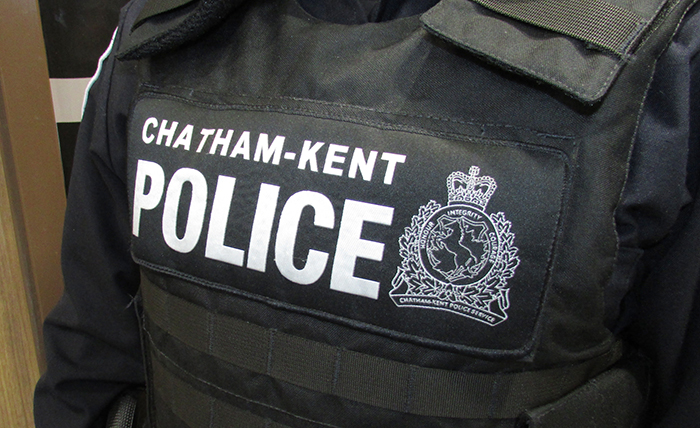 Chatham-Kent had a busy time of it over the past 24-plus hours, dealing with a plethora of charges.
That included a Wednesday morning encounter in Wallaceburg. Police say an officer on patrol saw two suspicious men riding bikes about 8 a.m. in the area of Bridal Path and Reaume Avenue.
Why suspicious? Police say they had their faces covered and were carrying a heavy backpack.
As the officer tried to stop the men, they pedaled away at a high rate of speed.
But police stopped one of them at the corner of Queen and Murray streets. As the officer went to place the man under arrest, police say he resisted and tossed a small baggie into a nearby bush. But the man was arrested and the baggie recovered. It contained crystal meth.
A 53-year-old man of no fixed address is charged with possession, resisting arrest, and failing to comply.
Also yesterday morning in Wallaceburg, officers responded to a domestic disturbance.
A 35-year-old Wallaceburg woman is charged with assault.
Last night in Dresden, the cops got called to a neighbour dispute.
A 30-year-old Dresden man is charged with uttering threats.
Another disturbance on Lacroix Street in Chatham just before 11 p.m. led to another charge.
Police say an officer spotted a man who was released from custody in December with curfew conditions.
A 31-year-old Chatham man is charged with failing to comply.
And early this morning, about 2 a.m., an officer spotted two men riding bikes on Oxley Drive in Chatham with no lights on.
The two got pulled over, and it turns out one of the men was wanted by the OPP.
A search revealed he was in possession of a black ski mask, a knife and a flashlight. A search of his backpack led to the discovery of night vision binoculars, another balaclava, various tools, gloves and a syringe containing methamphetamine.
A 33-year-old man of no fixed address is charged with possession of break-in tools and drug possession. He was also turned over to the OPP.
A 36-year-old man of no fixed address is charged for breaching his curfew.
Comments
comments