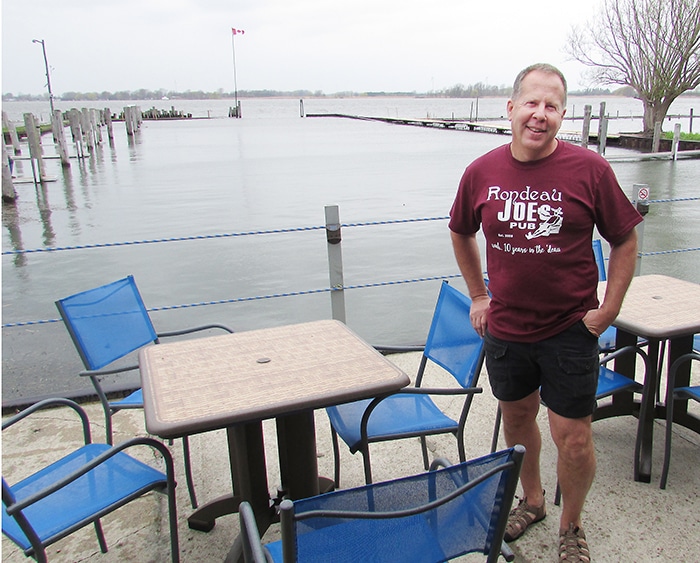 Rondeau Joe's has been a part of the Rondeau Bay scene for 10 years now, and owner Paul Trudell said he wouldn't have it any other way.
Trudell, who took over the site at 11521 Wildwood Line just outside of Rondeau Provincial Park in 2009, said he can't believe a decade has passed serving local families and out-of-town tourists.
Prior to Trudell turning the establishment into Rondeau Joe's, it was known as Dove's Bayside Bistro, he said, a fine-dining restaurant. Previous business incarnations at that location included other restaurants and even a pharmacy.
But for Trudell, Rondeau Joe's is his baby, and he knows just how to treat it.
"I've learned to repair almost all the equipment. It's not easy getting repair people out here right away," he said.
Trudell said the Victoria Day weekend aside, when the provincial park is seemingly one big teenaged party, despite the alcohol ban for the weekend, his clientele is typically older.
"We have clients who can't wait for us to open for the season. When we opened (May 11), it was standing room only," he said.
The loyalty and the diversity of his clientele are what makes Trudell enjoy doing what he does.
"I love the people. I've made a lot of friends here," he said. "I even bought a cottage last year in the park. I'm now a part of the community."
Those lasting relationships have become multi-generational as well.
"I've watched kids grow up here. Some are bringing their kids here now," Trudell said. "It's neat to see that over the years."
On top of the local clientele, there is a wide variety of tourists who have visited Rondeau Joe's over the years. Trudell said he's met people from all over the world, including Denmark, China, Italy, Russia and South America.
Rondeau Joe's menu evolves annually. Trudell said he'll review his sales history and drop the least popular items to add fresh ones.
Through it all, his fish dinners remain popular, however.
"Our perch and pickerel – it's all local," he said. "Perch is probably our biggest seller."
But factor in ribs, Reubens, wings, burgers, wraps, pasta and pizza, and Rondeau Joe's offers a variety of options and flavours.
Trudell also keeps making changes and improvements outside the restaurant. He's got new tables and chairs on the patio and under the awning, has upgraded the docks to better accommodate seasonal boaters as well as in-and-out boating customers.
After a decade running Rondeau Joe's, Trudell knows he is exactly where he wants to be.
"I love small communities. You get to know the people," he said.
And in Rondeau, the people get to know Trudell.
Comments
comments