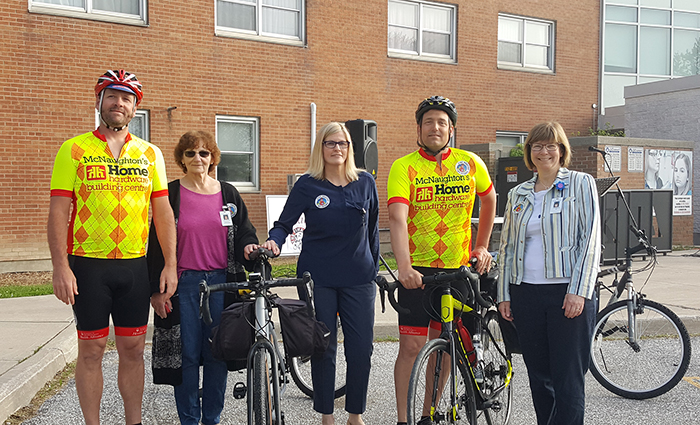 Earlier this morning, The Final Push bike ride celebrated its kickoff at CKHA's Wallaceburg hospital site.
The 1,000-km bike ride is raising funds and support for the $6.9 million Foundation of Chatham-Kent Health Alliance Diagnostic Imaging Equipment Renewal Campaign.
A crowd of supporters braved the chilly start to the morning to cheer on Dave Depencier and Dan Van Moorsel as they started day one of their six-day journey from Wallaceburg, en route to Dresden, Glencoe, St. Mary's and Stratford.
Depencier and Van Moorsel will be cycling an average of 200 km a day across Southwestern Ontario before returning to Chatham-Kent on May 28.
Funds raised through the Final Push will support the $6.9 million Diagnostic Imaging Equipment Renewal Campaign, which is only $250,000 shy of the target goal. The campaign concludes on May 28.
Individuals can pledge the duo by donating online or through corporate sponsorship by contacting Depencier directly. The Final Push target fundraising goal is $100,000, and currently sits at around $80,000 raised. More details are available at www.thefinalpush.ca.
The community can follow along with Dave and Dan's ride through Facebook, Twitter and Instagram. Search "The Final Push 2018" for more details.