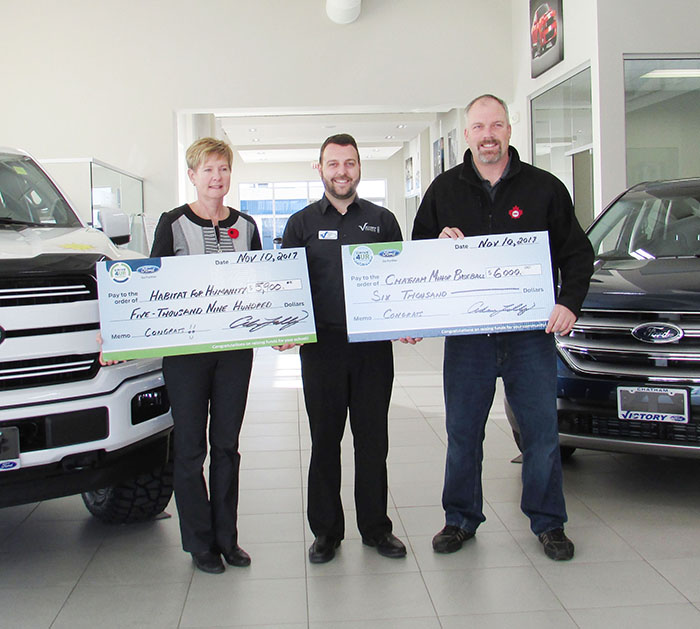 Test-drive donations via a local auto dealer will help build homes and will assist in sending local kids to an international baseball tournament at the Baseball Hall of Fame.
That's the impact the final two Ford Drive 4Ur Community events organized by Victory Ford Lincoln will have this year. Adam Lally, general manager at the dealership, said they are the last of eight test drive events local schools, charitable organizations, sports teams and community groups put on this year through Victory.
"We did eight this year. That's down bit for us," he said. "But they were all really successful."
Habitat for Humanity received $5,900 for its event, and Chatham Minor Ball raised an even $6,000.
Ford of Canada donates $20 for each person taking a test drive at its Drive 4UR Community events.
Nancy McDowell, executive director for the local Habitat for Humanity operation, said the funds will help with the annual Habitat home build project. In fact, they may lead to expansion.
"These funds could go a long way towards a second house," she said. "We hope to move towards multiple builds per year."
Currently, Habitat for Humanity Chatham-Kent, with the help of an army of volunteers, along with support from local supply firms, builds a house for a family in need. The family still has to pay market value for the home, and must volunteer on the project.
This past summer, the project took place in Blenheim, benefitting Lee Chrysler and Nichole Spall and family.
Next year, Habitat will build in Pain Court.
The test drive event for Chatham Minor Ball will help send a team of 12 year olds to Cooperstown, NY, to take part in an international baseball tournament. Jason Chickowski said it is a memorable experience.
"I was able to take a team a couple of years ago and it was an incredible experience," he said. "The kids will remember it for a lifetime."
The team and its coaches will stay on site for a week, he said, and many family members will also make the trip.
He said the support from Ford will help offset costs, adding other fundraisers are in the works.
Lally credits previous Victory general manager Sparky Leonard, who is still with the dealership, as the spark behind local Drive 4UR events.
"Sparky did a great job for this. He spearheaded this. We were one of the first dealerships in Canada to do it," he said.
Victory has held the events for the past six years, Lally said.