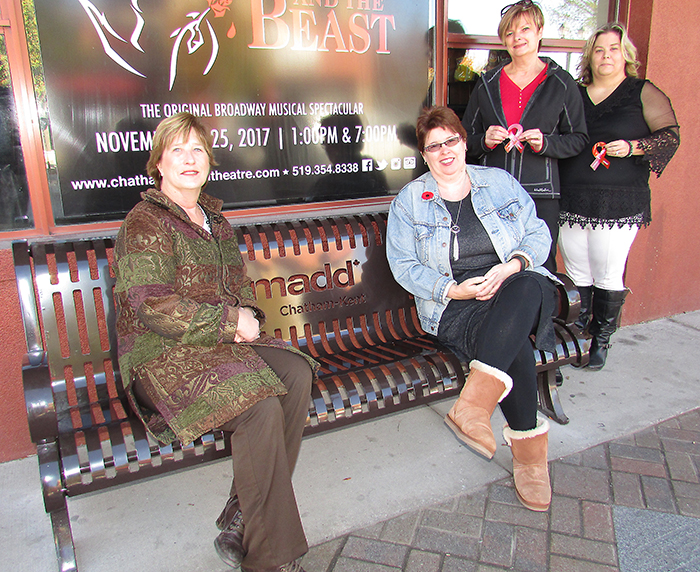 As the holiday season approaches, so too does the season of holiday celebrations. To that end, Mothers Against Drunk Driving (MADD) C-K launched their annual Red Ribbon campaign recently.
Heather Bakker of MADD C-K, said it's the 30th anniversary of the campaign. The red ribbons symbolize the importance of driving sober, and serves as a tribute to the innocent people who are killed and injured in impairment-related crashes.
The Red Ribbon campaign has evolved from a single event 30 years ago to a nation-wide effort.
Thousands of volunteers distribute millions of red ribbons to the public each year to tie on vehicles. This year, there are car decals featuring the "drive sober" message.
The local MADD team has also dedicated two benches in downtown Chatham, in front of the Chatham Capitol Theatre.
"Through fundraising efforts of our own, we are proud to have benches where people could reflect on lost loved ones," local MADD team member Janine Carr said. "The Capitol Theatre seemed like the perfect place."
Lesley Grand, manager of the theatre and a MADD member, agreed.
"So many people who come here for the various events will use them," she said. "And the benches are used by people just walking up and down King Street. It's a good reminder about the message from MADD, and it helps get the Capitol Theatre a little more noticed."
Carr said the bulk of the fundraising for the benches took place in just one night, where MADD C-K hosted British Beat '66, a Beatles tribute act, last year at the Capitol.
This year's Red Ribbon campaign runs from now until Jan. 8, 2018. MADD C-K members will be out with local police at RIDE spot checks around the municipality, reminding people to behave responsibly.
"We just want to remind everybody don't drink and drive," Carr said.