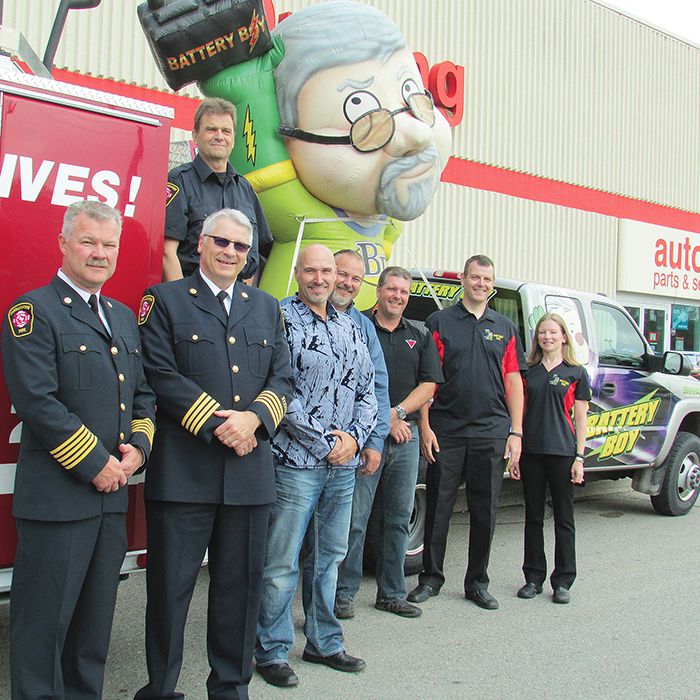 The Chatham-Kent Fire Department (CKFD), with some help from local businesses, hopes to continue to cut the number of house fires that occur in the municipality.
To that effect, the department has teamed up with various Canadian Tire stores in Chatham-Kent, as well as Battery Boy, to conduct the 2014 Safe Homes Smoke Alarm program. The goal is to raise awareness of the importance of smoke alarms throughout the municipality, as well as hand out alarms, with batteries, to folks who need them.
Guy Deschenes, a fire inspector with the CKFD, said the program is the brainchild of assistant chief Bob Davidson. Firefighters will be knocking on doors in communities across the municipality to get the word out.
LEADWAVE Technologies from Chatham Voice on Vimeo.
Canadian Tire stores are providing the smoke alarms, while Battery Boy is handling the batteries.
"Firefighters will go door to door to provide smoke alarms and batteries to people who can't maintain them on their own," Deschenes said.
He said the people receiving the alarms – and he anticipates as many as 200 could be given out this year – are folks who because of their age, or a handicap or for financial reasons are unable to afford or maintain the alarm in their home.
As well, during the home visits, Deschenes said firefighters will educate residents on the importance of having working smoke alarms in their homes.
They won't be targeting new subdivisions, he added, as changes to the building code require new houses to have smoke alarms wired into a home's electrical system. Instead, they will focus on mature neighbourhoods.
"We'll be maintaining statistics on the homes targeted to see how effective the program is," Deschenes said. "I think we'll be able to determine what works" in terms of fire prevention programs and methodology.
During the home visits, fire personnel will discuss fire safety in the home, including having a home fire escape plan so everyone living there knows what to do in the event of fire, he said.
Smoke alarms work, and getting the message to the public is paramount, Deschenes said.
"In the last 10 years, the reduction of the incidence of residential fires is 50%," he said.
The goal for this year's door-to-door campaign is to educate a minimum of 4,000 homeowners. Deschenes said the CKFD realizes ongoing education is the key, as well as ensuring smoke alarms are in place and working.
Firefighters will assist homeowners in determining the proper installation and location of smoke alarms for best protection.