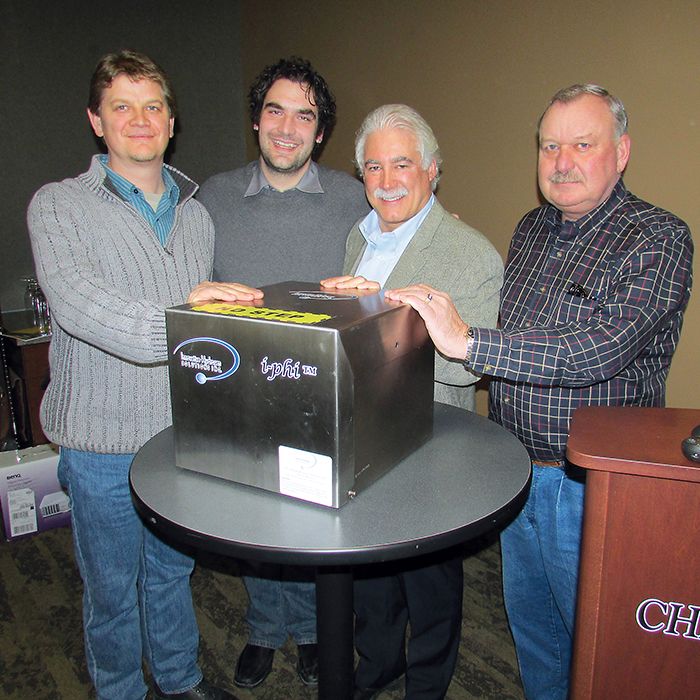 A local facility is building it, and now it's time to see who will make use of a pollution-reducing, efficiency-increasing device for diesel engines.
Innovative Hydrogen Solutions (IHS) recently certified the first units coming out of the assembly area inside Cross Country in Blenheim, as H 1 Manufacturing has been contracted to build the components and rents space out of the Cross Country plant.
IHS's device is a hydrogen injection component that's an after-market add on for diesel engines which can significantly reduce particulate and nitrous oxide emissions from the exhaust, according to company officials.
LEADWAVE Technologies from Chatham Voice on Vimeo.
Joe Williams, president of Innovative Hydrogen Solutions, was in town recently to examine the production line before giving final approval.
"I was quite pleased," he said. "Dan (Brown of Cross Country) has done a great job with those guys."
Williams said the first units are earmarked for Mexico for installation on trucks there, but he'd like so see some local installation in the near future.
"I would like to get a couple of units on Chatham-Kent vehicles," he said.
Williams said IHS is committed to this community and would like to see the municipality benefit from the product and showcase it at the same time.
Chatham-Kent Mayor Randy Hope said he is familiar with the IHS module's concept, but has to discuss such an installation with fleet services personnel and perhaps Entegrus to see if it's a viable option and to work out details. He added with the rising price of diesel fuel, the components are becoming more relevant all the time.
"Everyone's looking for less pollution and more fuel efficiency," Hope said.
Williams said the IHS hydrogen unit enhances the combustion of diesel fuel and makes for a much cleaner burn. Fuel efficiency is enhanced by an average of 7.5% on trucks, Williams said, while the unit also results in lower maintenance costs, as filters don't have to be changed out as often.
Meanwhile, production is underway at Cross Country, and Williams said 500 units will roll off the line in the next two years. The market, for the most part, is outside our borders, especially overseas.
Williams said a joint venture in Germany and Poland could see components shipped there, while South African and Australian companies have contacted IHS to see about building the IHS modules in those countries.
"We said no. All units will come out of Blenheim," he said. "They (Cross Country) have got lots of space to this."
The production line, with its present allocated space inside of the Cross Country facility, can produce about 500 units a year, Williams said. Including on-site storage, it takes up less than 1,800-square-feet of space, and there is room for expansion into as much as 40,000 sq. ft.
He sees the potential for growth as looming just around the corner, with markets opening up closer to home, as the states of California and New York will shortly introduce much tougher laws on air pollution.
"This will benefit IHS," Williams said. "The module will make trucks compliant and even provide a return on investment" for the truck owners.
Comments
comments