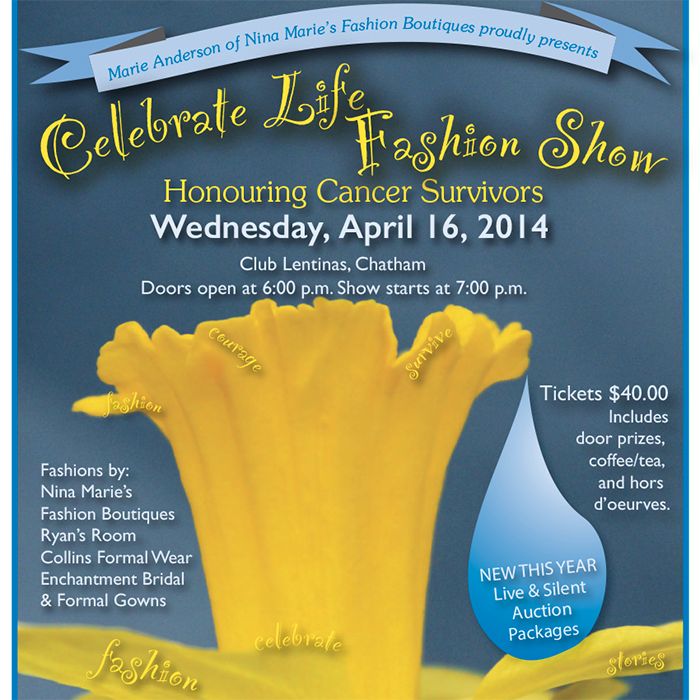 Cancer survivors will strut down the runway April 16 in Chatham.
They're the models for the 18th annual Celebrate Life Fashion Show, which honours those who've beaten cancer.
Cindy Vinall, manager of the Chatham-Kent branch of the Canadian Cancer Society, said the crowd at the annual event really empowers the models.
"It is such a unique and positive event. The crowd is so interactive. It's been sold out every year," she said.
LEADWAVE Technologies from Chatham Voice on Vimeo.
Vinall said she believes the fashion show is unique to Chatham-Kent. She said it began with Marie Anderson, owner of Nina Marie's, in honour of her mother.
"Her mom lost her battle with breast cancer and she decided she wanted to not just raise awareness, but raise money, and, more importantly, honour survivors," Vinall said. "She treats those models so royally."
Dennis Poole, chief of Chatham-Kent police, is modelling for his second year. He battled kidney cancer in 2011.
"This event is really special to participate in because the people you are with. To see their positive attitude and to see their friends come out and support them, it's pretty special," he said. "And very heartwarming."
Poole said being a part of the event, as a survivor, is important to him.
"I think obviously cancer affects a significant number of people in the community. When it affects you personally, and you go through your journey, it certainly brings a lot of things to bear on who you are," he said. "This is a way of giving back to the community to raise some funds and to raise awareness.
"From my perspective as a survivor, it sends a message there is certainly hope. Just because you are diagnosed with cancer, it doesn't mean you can't beat it. You can defeat it and get your life back."
Vinall agreed.
"This gets the message out that there is life after a cancer diagnosis. These are inspirational messages. It really is a very positive night," she said.
The Celebrate Life Fashion show takes place April 16 Club Lentinas. Doors open at 6 p.m. and the show starts at 7 p.m. Tickets are $40 per person. There will be door prizes, coffee, tea and hors oeuvres, and there will also be a live and silent auction this year.
For tickets, call 519-352-3960.