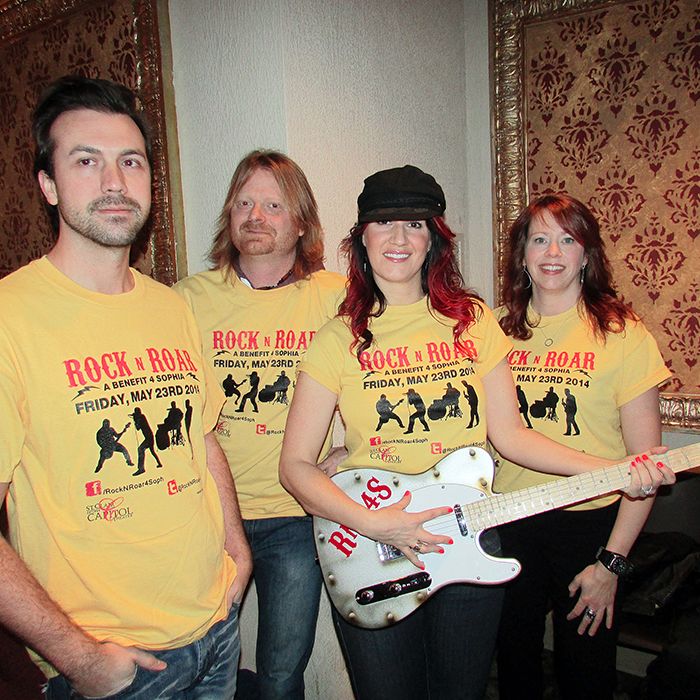 From left, Dave Richie, Mat Drew, Melaina Craievich and Deb Owen show off a custom painted guitar that will be auctioned off on eBay in the near future.
Proceeds from the auction will support Rock 'N' Roar for Sophia.
The St. Clair College Capitol Theatre will be rocking during the Retrofest weekend, as Rock N Roar for Sophia hits the stage.
The event, which is a benefit concert for Chatham teenager Sophia Vlasman, who is battling cancer of the sinuses, will feature four local bands and is an all-ages concert. Face4Radio, Walkin' 47, Superfly and Brooklyn Roebuck are all playing.
The event takes place May 23 at the Capitol Theatre during the Retrofest weekend. Doors open at 7 p.m. and the show starts at 8 p.m.
LEADWAVE Technologies from Chatham Voice on Vimeo.
Tickets to the event are $25 and are available at the theatre box office between 8:30 a.m. and 5 p.m., at Enchantment Bridal and Formal Gowns on King Street, or from Deb Owen at 519-352-6393.
Another fundraiser for Rock N Roar is the auction of a custom-painted Telecaster guitar on eBay. Darryl Boismier of Evolution Custom Paint in Chatham painted the instrument, while the staff at Musical Strings N Things handled the tuning.
Owen, organizer of  Rock N Roar, said the guitar will go up for auction May 13.
"We can only post it on eBay for 10 days, so we plan to do it 10 days prior to the event and announce the winner at the concert," she said.
Other items will go up for silent auction at the theatre the night of the concert. There is still space for additional items if any local businesses would like to contact Owen to donate.
There will also be Rock N Roar T-shirts for sale.
"The T-shirts look really good. There's the guitar on the front and 'Bad Hair Day Tour' on the back with all the bands listed," Owen said.
All proceeds from the auctions, T-shirt sales and the concert will go to Ronald McDonald House in London and Team Vlasman.
Owen said Sophia's illness has been financially stressing on the family.
"A lot of the medications Sophia is on is not covered," she said.