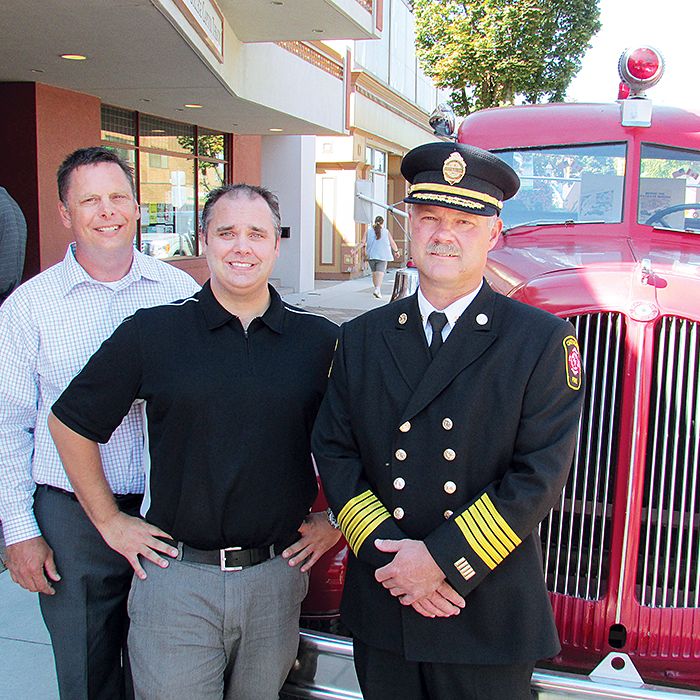 As the second annual FireFest Chatham-Kent event rapidly approaches, organizers say it will be much bigger than the inaugural event in many ways.
More antique fire trucks, two viewings of a gritty documentary on Detroit firefighters, and a guest speaker who survived being trapped under debris after the World Trade Center collapsed on Sept. 11, 2001, are highlights of this year's event.
FireFest, which takes place Sept. 21, is organized by Keith Chinnery, Brent DeNure and Wes Thompson. Last year's event had 42 antique fire vehicles on display, and DeNure said as of Sept. 3, there were 49 registered for this year.
"I'd be surprised if we didn't get upwards of 60," he said.
On top of the antique vehicles on display, there will be two showings of the documentary, "Burn," which chronicles the challenges Detroit firefighters face.
"'Burn' is a year in the life of Detroit firefighters," DeNure said. "They fight about 30 fires a day and 80-90% of them are arson-based."
The film will be aired at the St. Clair College Capitol Theatre Sept. 18 at 7:30 p.m. and Sept. 21 at 2 p.m.
There is no charge for the show, but admission is a suggested $5 donation at the door. Proceeds help fund FireFest activities.
Advanced general admission tickets are available at the Chatham Cultural Centre, Affinity Distinctive Jewellery, the Thames Campus of St. Clair College and the St. Clair College Employment Centre in Wallaceburg.
Any remaining tickets can be picked up at the theatre just prior to the show.
FireFest is also bringing in guest speaker Richard Picciotto, the highest-ranking member of FDNY to survive the collapse of the World Trade Center. The fire chief will speak at the Capitol Theatre Sept. 20 at 8:30 p.m.
DeNure said more than two-thirds of the tickets to hear Picciotto have been sold. Anyone interested in attending can contact the Cultural Centre, 519-354-8338 or online at www.stclaircollegecapitoltheatre.com. Tickets are $16, plus a handling fee.
Chatham-Kent Mayor Randy Hope said FireFest is not just a chance for local citizens to see antique fire trucks but also to educate the community about fire safety.
"This gives them a life experience," he said.
Rick Arnel, assistant fire chief in charge of operations in Chatham-Kent, loves the connection.
"Public safety is our message. As FireFest grows, so too will our ability to get the message out to the public," he said. "We can use FireFest as a catalyst to announce new initiatives as well."
Arnel said about 10 antique fire trucks that once served Chatham-Kent communities will be part of this year's event.
As part of the festivities, Entegrus will have one of its lift trucks on hand.
"It lets people get 80 feet into the air. It was a huge hit last year," DeNure said.
Wallace-Kent Sprinkler Systems will be conducting fire safety exercises, while St. Clair College pre-service firefighter education and training program students will perform an automobile extrication demonstration using the Jaws of Life.
King Street, from Second to Fourth Streets, will be shut down most of the day Sept. 21 to accommodate the antique fire trucks and demonstrations.
Comments
comments