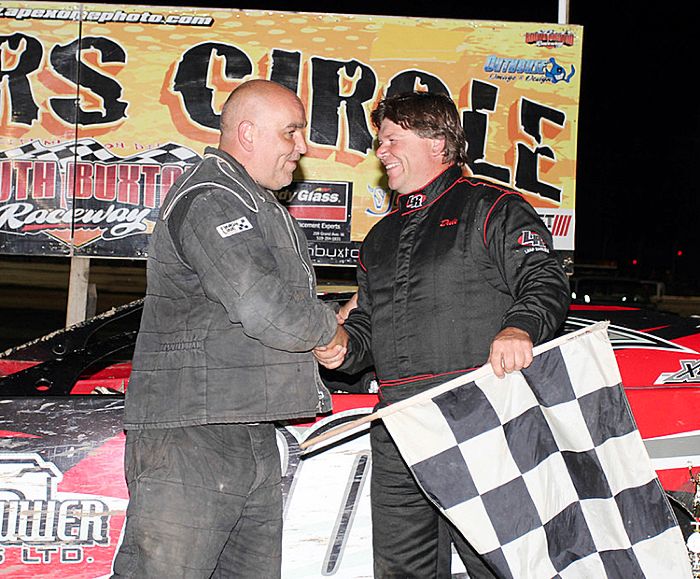 Dale Glassford couldn't wait to get out of his car and address the fans after winning the Lube Tech/Great Canadian Oil Change UMP Late Model mid-season championship on Saturday night at South Buxton Raceway.
Unfortunately, a malfunction with the track's wireless microphone prevented Glassford from saying thank you to the fans.
But that was about the only thing that hasn't gone right for the Ridgetown native of late, as the mid-season title was his third straight feature win and fourth of the season.
"I just wanted to tell the fans how much we appreciate everyone who is supporting our class," Glassford said from his hauler at the end of the race night.
Only eight Late Models were on hand for mid-season championship night, with two scratching from the feature.
Small car counts have plagued what has been South Buxton's showcase class since the track opened in 1971.
"We have a bunch of people who are stepping up for the class and I really wanted to thank them, namely Sherry and Gary (Lemesurier) for what they're doing for the Gord DeWael (memorial) race," Glassford said.
The Lemesuriers have secured close to 50 sponsorships to enhance the purse for the DeWael memorial, which has already been rained out twice and has been rescheduled for July 27.
This Saturday, the Late Models will compete in the Don Hendricks memorial feature, another special race in honour of a former track champion.
"It makes us feel good that people are helping us out and we all appreciate that," said Glassford, on behalf of his fellow Late Model drivers.
In Saturday's mid-season championship, Glassford took the lead on the second lap and led the final 18 circuits for his second mid-season victory in three years.
"Things are going our way right now," said Glassford, explaining his hot streak.
"Some of it's luck, some of it is being in the right spot at the right time and taking advantage of other people's problems.
"We went through our bad luck the first of the season and now we've got some good luck going, that's 90% of it," Glassford said.
Wallaceburg's Mike Lewis, who won the heat and dash preliminary races earlier in the night, got loose between turns three and four on the second lap, surrendering the lead to Glassford.
"It's too bad that happened so early because that would have been a really good race," Glassford said.
"He's got a good fast car. I chased him in the heat and dash and I couldn't quite get there, but we were close," he said of Lewis.
Lewis held off Chatham's Jim Jones in the waning laps to finish second.
Glassford moved into second place in the division standings despite missing two race nights early in the season, but is a distant 118 points behind Chatham's Gregg Haskell.
"We've got some really important races coming up I'd like to win," said Glassford, looking ahead to the Hendricks and DeWael memorial races.
"I just hope I'm not using up all of my luck up because I'd really like to do well in those memorial races.
"It's pretty hard to keep up doing well all the time because something's going to come up and bite you," Glassford declared.
Three other drivers also continued their winning ways in Saturday's mid-season championship night.
Merlin's Eren Vanderiviere won his fourth straight feature and fifth of the season in the Windride Transportation Sport Stocks' mid-season championship race.
Leamington's Joel Dick won his third straight feature and fourth of the season in the Schinkels Gourmet Meats UMP Modifieds.
Cottam's Rob Quick won the Tirecraft Mini-Mods mid-season title, his third feature win in the last four weeks.
Blenheim's Dylan Bonner won the Bomber mid-season title.
The grandstand opens at 5:30 p.m. and racing starts at 7 p.m. this Saturday.
Comments
comments