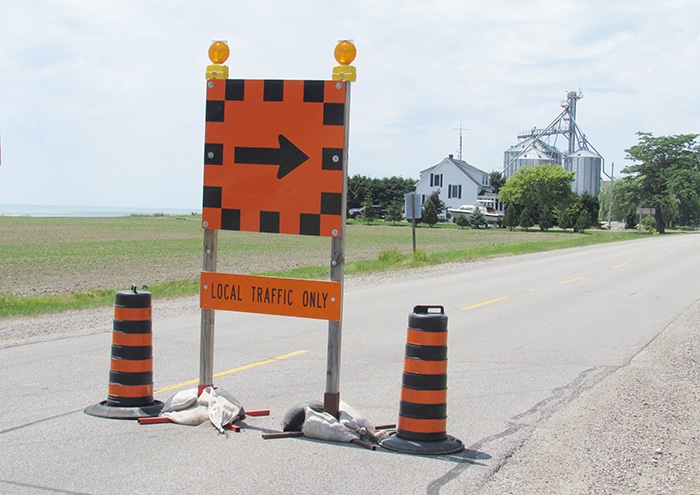 By Pam Wright
Local Journalism Initiative Reporter
Chatham-Kent council has decided to take another look at the possibilities of reopening a section of Talbot Trail along the Lake Erie shore that's been closed for almost four years.
At a recent meeting, elected officials approved an addendum brought forward by West Kent Coun. Lauren Anderson that may lead to a solution that would be far less costly and invasive than the original plan approved by the municipality.
Revisiting the issue will see Chatham-Kent spend close to $60,000 on an additional environmental assessment that could pave the way for a cheaper interim plan that would see the road opened more quickly.
Anderson's motion asks staff to come up with a design that meets the 30-to-100-year hazard zone criteria by examining alternatives at Talbot Trail between Stevenson and Coatsworth Roads.
When speaking to the motion, Anderson said she appreciated the deputations made at the meeting on the subject, as well as the input she's received from the public.
"I think that's the whole purpose of this motion, is to see if there's another opportunity to get this road open," Anderson said, adding it allows the municipality to explore "what the safest and best plan will be."
An earlier plan approved by council would have seen a two-phase initiative to construct a new 30-kilometre stretch of road. The recommendation followed a decision by Chatham-Kent in 2019 to close a portion of Talbot Trail near Coatsworth Road because of severe erosion.
The first phase included rerouting Talbot Trail north along Coatsworth Road Concession Line 2 before heading east to Stevenson Road and south to Talbot Trail.
The plan's second part would extend the detour by moving Talbot Trail north from Ellerbeck Road near Wheatley to Stevenson Road. It would move Talbot Trail north through farms and woodlots from Stevenson Road all the way to Craford Road.
The original plan met with stiff opposition from residents in the area, and involves expropriating land.
John Mann, one of the property owners leading the charge against the original plan, said he's pleased Chatham-Kent is exploring other options.
"We're happy this is getting another look," Mann said. "It seems like the municipality is listening."
Three deputations supporting Anderson's motion were made during the council meeting and around 50 concerned citizens also attended.
If found by administration to be feasible, an amended plan could come back before council in 2024.