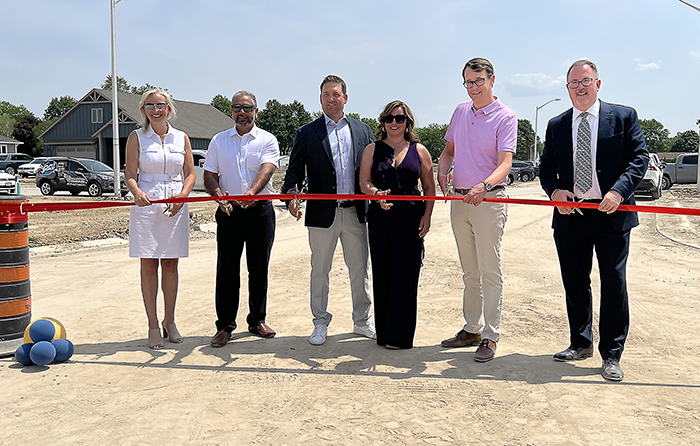 By Pam Wright
Local Journalism Initiative Reporter
At Dresden's new Rolling Acres subdivision, there's much to celebrate.
Located on the northwest corner of town, 12 unique new homes stand tall and are testaments to growth in this North Kent community.
A total of 42 homes are set to take shape on current land, however, many more are in store as the developers behind Rolling Acres have recently purchased an adjacent 20 acres to expand the subdivision.
Long time custom home builder Dave Depencier told the large crowd gathered for the official opening of Rolling Acres Friday that the land recently acquired will allow Rolling Acres to "continue to build for many years to come.
"This is our home and we are here to stay," Depencier said. "Dresden is where we live and you can too!"
Depencier, who owns Depencier Builders, is partners in a second company called the DeMall Group with his wife Kim Depencier and Kerry and Krista Mall.
The four have spurred development by creating Rolling Acres, reversing a long trend of low growth in the area.
"We're building the community so people, businesses and schools can survive and thrive," Depencier said, adding the company is committed to affordable housing starts.
Rolling Acres features detached and semi-detached homes, beginning with a price tag under $500,000.
The success of Rolling Acres is also a story of diversity. Partner Kerry Mall, a native of India, came to Dresden a decade ago, with a couple of suitcases full of dreams.
In Dresden he said he found a warm welcome and a place to create his vision.
"My dreams are big and I'm not shy about that," Mall said. "We want to make Dresden one of the best towns in which to live in Southwestern Ontario."
Dignitaries on hand at the announcement praised the work of the DeMall Group.
Lambton-Kent-Middlesex MPP Monte McNaughton, Ontario's minister of labour, immigration, skills and training development, said it's positive news for the Dresden community, and the local labour market.
He thanked the DeMall team for their investment in the community.
"This construction is so important to train the next generation of workers, especially locally because we know there are thousands of jobs across Southwestern Ontario that are going unfilled," McNaughton said.
C-K Mayor Darrin Canniff was also on hand offer his congratulations and asked the crowd to look back to five years ago when the municipality's population was shrinking.
"Chatham-Kent wasn't growing," Canniff said. "Enter people from the DeMall Group and individuals from across Chatham-Kent, with your vision. I want to thank you for having the faith to do all this."
A new three-acre park – including outdoor squash courts and pickleball courts – is also in the works for Rolling Acres.
Depencier also announced that he will be taking on another high-profile role this fall when he becomes the president of the Ontario Home Builders Association.