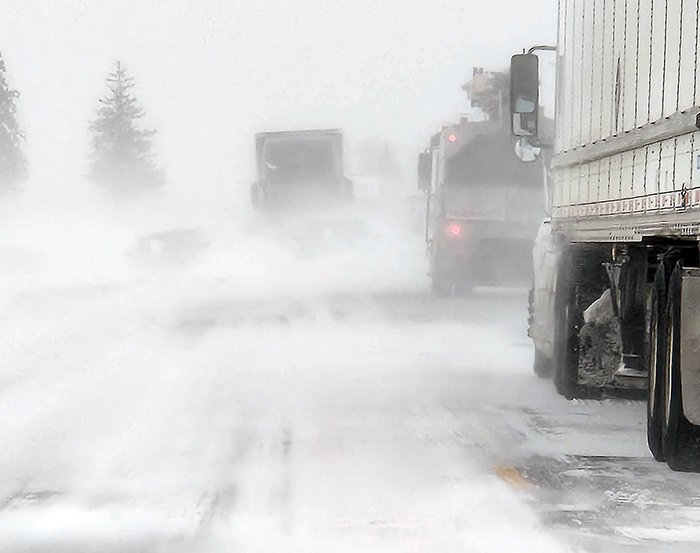 By Pam Wright
Local Journalism Initiative Reporter
Betty Whiteout, Flurrie Jenkins and Scoop Dog have faced the ultimate test.
Part of Chatham-Kent's fleet of around 80 snow plows, the machines and their operators had a workout cleaning up after the wicked winter blizzard that rocked the municipality.
Despite the monumental challenges the storm brought, Chatham-Kent's winter maintenance response worked, according to Ryan Brown, director of Public Works for the municipality.
Crediting success to a "true community effort," Brown said communication between various departments, including first responders and tow truck operators, went well.
Emergency situations – such as an ambulances or firetrucks stuck in the snow – were prioritized throughout the event, Brown explained.
"One of the things we have in C-K is a robust system," Brown said. "It worked very well."
The Chatham-Kent response was unique, he said, as farmers and homeowners pitched in to assist, using their equipment to pull vehicles out, as well as providing shelter for those who couldn't make it home.
He said it helped that volunteer firefighters know their own communities and that knowledge helped keep people safe.
The snow, which started Dec. 23, turned Chatham-Kent into a whiteout and led to a state of emergency being declared by Mayor Darrin Canniff at 1 a.m. on Christmas Eve.
The ferocity of the storm created zero visibility, which led to Chatham-Kent pulling the snow plows off the road.
Brown said the municipality was criticized for the move, but putting plows on the road wasn't safe and one did in fact strike a car.
"We had to pull plows because they couldn't see," he said.
Along with the snow plows, the municipality uses road graders to clear snow, and also operates a fleet of salt trucks. There about 100 Public Works operators and some of the work is contracted out as well.
While stories about people spending the night at makeshift shelters have been making the rounds, the same thing happened to members of the winter maintenance crew. Brown said staff ended up spending the night at each of the municipality's 10 public works garages. The employees couldn't make it home and they needed to start plowing at 7 a.m. to clear the roads.
"They stayed in the shop," Brown said, noting it was "quite the experience."
All told, Brown said there were about 100 cars that had to towed, Brown said.
"There are some things we've learned along the way that we could have done differently, but overall, it went well," Brown concluded, adding the extra pressures of the Christmas holiday and many additional travellers complicated the issue.
Chatham-Kent's senior management team will meet in the coming days for a debriefing on the storm response, he said. It remains to be seen how much the blizzard will cost the municipality. Brown said it normally costs about $1 million to clean up after a major storm.