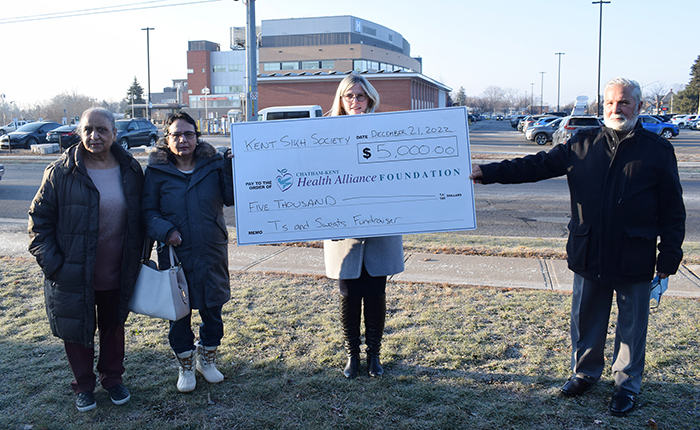 High priority needs at the hospital are the focus of two recent donations made to the Chatham-Kent Health Alliance Foundation.
The Kent Sikh Society committed $5,000, with the Chatham-Kent Asian Cultural Association pitching in another $5,000.
Kudos go out to all who pitched in but special mention goes out to Jarnail and Inder Gahunia, the owners of T's & Sweats in the Downtown Chatham Centre. Earlier this year, the couple held a unique promotion by discounting in-store items by 20 to 70 per cent when customers opted to donate 20 per cent of their purchase to the Foundation.
The Kent Sikh Society topped up the donation to the $5,000 mark.
After 46 years in business, the Gahunias have decided to close up shop on April 30, 2023. They want to let the public know they will be holding a similar fundraiser for the Canadian Cancer Society from Feb. 15 to April 15.
A great effort from long-time hospital supporters Jarnail and Inder, as well as the members of the Kent Sikh Society and the CK Asian Cultural Association. The cultural association donation was made with the support of Riverview Bingo.
Entegrus donates to local projects
Entegrus recently announced it handed $215,000 to two charity organizations.
Habitat for Humanity Chatham-Kent and Indwell Housing Project will receive $15,000 and $200,000 respectively.
Indwell is an organization that provides supportive and affordable housing. The funds provided are earmarked to support 35 residents in Chatham.
"Wow! We are deeply humbled by Entegrus' generosity and their belief that building affordable supported homes for people in Chatham-Kent who need them, will make a big, long-term impact in the community," said Scott Brush, Launch Manager at Indwell, in a media release. "I'm also very excited about how this gift, along with the one they gave last year, is helping lay the financial foundation that Indwell needs to move forward at the former St. Agnes school, creating an affordable housing community for those who are seeking health, wellness and belonging."
The new complex will include a nurse's station to administer medication and an industrial kitchen so residents can be guaranteed at least one nutritious meal per day. It will also offer the residents a program providing mental health and addiction, as well as psychosocial assistance.
"Housing shortages are something we see more and more each day in our community, and we are very pleased to help support this cause," stated Jim Hogan, President and CEO of Entegrus. "We believe this project is a wonderful opportunity for Chatham residents and that is why we chose to donate for a second year in a row."
The Habitat donation will help in the building of homes within Chatham-Kent for families in need.
"Our team is thrilled to support local charities that give back to our community," Hogan said.. "We are grateful Habitat for Humanity helps individuals in our community achieve their dream of becoming a homeowner."
"For a number of years Entegrus has been a supporter of our builds – not only contributing financially, but also sending teams that have volunteered time to assist with drywall and painting among other projects.," Megan VanderEnde, board chair of Habitat C-K, said.
Entegrus and its employees have donated more than $400,000 throughout 2022 to various organizations within their service area with the majority of the funds to support those in need.
Maizex Seeds returns to in-person agronomy meetings 
Maizex Seeds will return to its popular series of in-person agronomy meetings in January and February.
Maizex Agronomy 2023: Learn Live will be a welcome return for Ontario farmers to in-person knowledge  sharing on topics that are timely and relevant to each region.
The event series is spearheaded by Maizex Agronomy lead Greg Stewart, and the line-up of speakers  will consist of experts in their respective fields.
The meetings will take place on the following dates: Jan. 18, Kemptville; Jan. 19, Cobourg;  Feb. 1, Listowel and Feb. 2, London.
Topics will include: Lessons From a Dry Year, Nitrogen Management: Emissions Down, Yields Up, Ending  the Soybean Row Width Debate and much more.
Farmers interested in attending one of the events are asked to register by e-mailing karen.robinet@maizex.com or calling 519-359-3048.
Business Voice is a bi-monthly column in The Chatham Voice that highlights some of the achievements made and efforts underway in Chatham-Kent's business community. Send your information to bruce@chathamvoice.com.