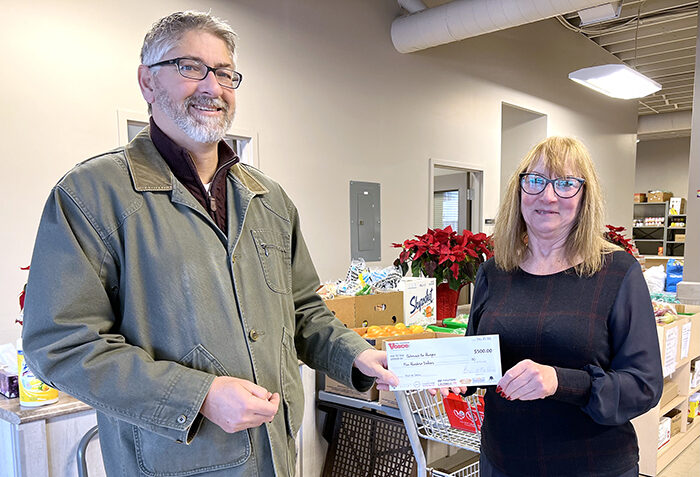 We at The Chatham Voice know that times are tough for many Chatham-Kent residents, with inflation hitting folks like a sucker punch to the gut. And that is especially true on grocery store shelves.
That has more and more people turning to places such as Outreach for Hunger and the Salvation Army food bank in order to feed their families.
With that in mind, we conducted our annual Deck the Shelves with Cans Aplenty effort just before Christmas, managing to raise $1,000 in the process.
The businesses that helped make this donation possible are Caldwell BrandSource, Hinnegan-Piseski Funeral Home, Chatham Chrysler, Sundowner Truck Accessories, Chatham Nissan, Hyundai of Chatham, Mamma Maria's and Waste Connections Canada.
We thank these businesses for taking part in our Deck the Shelves endeavour.
In the past, we've gone shopping for specific products for each food bank, speaking with each organization to see what was needed most at the time. This year, we donated the cash. We've got friends at grocery stores who can stretch dollars, but we've learned the organizations have the same friends, plus they are meticulous in watching for deals and are thus able to stretch the money even farther than we could.
It is truly a joy to work with the folks at Salvation Army and Outreach for Hunger, and an equal joy to work with all the supporting businesses.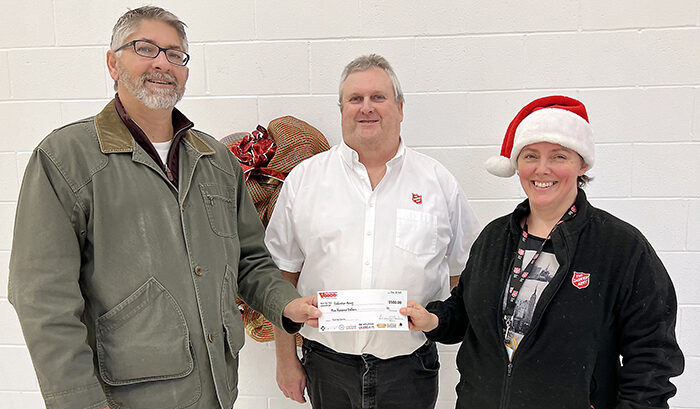 Merry COVID-mas
As was the case a year ago, the Corcorans awoke Christmas morning to one of us feeling unwell. With two family gatherings slated for that day, we opted to test the one with the extreme fatigue and cough. Yup, COVID.
A day later, Mary Beth and I were ill as well.
Ugh. I must say, the second time was not as bad as the first for me. I had aches and pains a year ago with COVID. And extreme fatigue. This time around, the energy level was in the toilet, concentration on anything was a chore and the chest congestion was annoying. But no aches.
So, I just felt like crap, rather than sh*t.
Thanks to friends and family for grabbing us necessities and helping us isolate.
For those who think COVID is done and gone, please think again.
Comfort upgrades
As many of you readers know, I'm in line for a second hip replacement. It can't come soon enough. I'm limping around with a cane these days, getting by.
It's frustrating in that it has reached the point where I'm basically in a pandemic extension, in that I go from home to work and work to home. It's too painful – thanks to the addition of lingering sciatica – to head to public events or even a restaurant/watering hole/movie.
C'est la vie. We're trying to make the best of it in the short term.
And in terms of making the best of it, I recently came to the conclusion my bed was trying to hurt me. The mattress was at least two decades old and had no support left in it.
Because I can only sleep on my back due to my hip, spending more than four hours a night in bed augmented my back discomfort. Heck, the sciatica pain would pulse, waking me out of a deep sleep. I'd have to pull up my knees and stretch my back, willing the throbbing to stop, and catch another half hour of sleep, only for the process to repeat itself.
So, a wise woman – my wife, Mary Beth – informed me I needed to replace the bed.
You would think I would not need to be told twice. But I hummed and hawed and spoke with Janine at Caldwell BrandSource. She echoed my wife's thoughts and gave me such a great price on an adjustable bed, I could not refuse.
I also should mention the delivery guys are a treat to deal with and are very accommodating.
As I type this, I'm only a few nights into enjoying the new bed, but, wow, what a difference.
The first night, I decided to head to bed early, and watched videos for a time while in a raised position, with my back elevated and my legs slightly so. I fell asleep in what I thought was a position close to horizontal. When I flattened the bed in the morning, I was reminded how much I was still elevated.
Regardless, I spent the entire night in bed for the first time in many, many months.
I have found that elevating my legs is the key to comfort for me right now. The bed has been a godsend, to say the least.
Buy local. Shop local. Support local. You won't be disappointed.