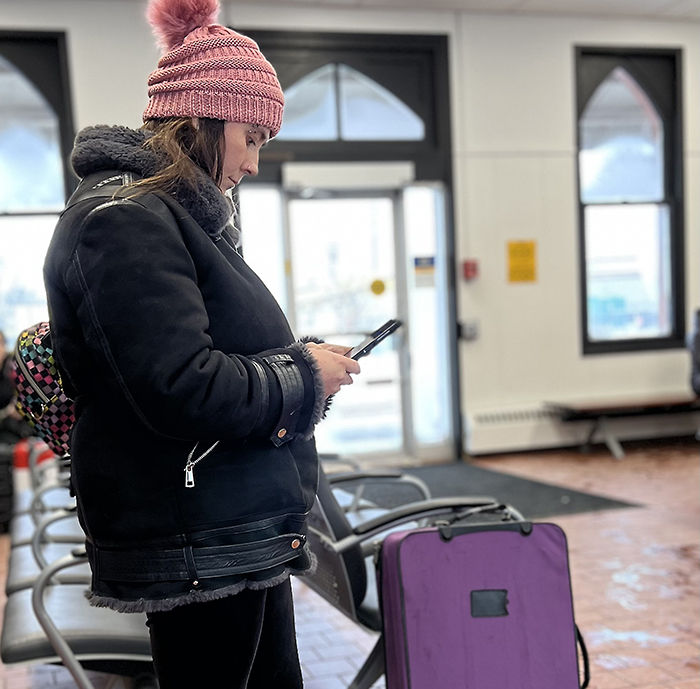 By Pam Wright
Local Journalism Initiative Reporter
Hailey Slovik of Detroit said she's learned a valuable lesson about winter driving.
The hard way.
The 27-year-old was one of dozens – possibly hundreds – of people who found themselves marooned in Chatham-Kent trapped by a fierce winter storm Dec. 23.
The just-in-time-for-Christmas blizzard saw Mayor Darrin Canniff declare a state of emergency and the closure of both Highway 401 and Highway 40, as first responders and snow plow operators grappled with drifting snow in whiteout conditions.
The extreme weather event saw local residents and business owners open their doors to the stranded, and many travellers were also welcomed to emergency shelters at schools, churches, arenas and even Chatham's Wal-Mart.
On her way to Toronto to visit her boyfriend and meet his family for the first time, Slovik set out in the afternoon. She heard there was a storm coming, but didn't give it a lot of thought thinking she could "beat it" and go around any problem areas.
"I thought it was like Michigan where they detoured you around the parts of the road that were closed," Slovik said. "I didn't realize that wouldn't happen…I didn't think it would be a big deal."
Old Man Winter had different plans. Slovik discovered Hwy. 401 was closed from Tilbury to London, with police redirecting off the highway towards Chatham.
Now facing a blinding whiteout, her Buick Lacrosse slipped into a ditch somewhere. However, she managed to get car out, crawling along unfamiliar roads.
As night lengthened Slovik said she began to panic. She found herself on Bloomfield Road but got stuck when she attempted to turn the car around.
Other vehicles stopped to see if she was okay. A passerby offered Slovik a blanket that she pulled around herself to keep warm, as she turned the car's ignition on and off to charge her phone and create heat.
Eventually she fell asleep.
Enter Good Samaritan Jessie. Slovik awoke to a knock on her car window and an invitation to come in out of the cold.
"He asked if I was OK and if I needed anything and then invited me to come and sleep on the couch," Slovik said. "I was so happy and I was so grateful."
The next morning, Jessie and his friend Chantel helped Slovik plot her next move. Because her car was stuck with no scheduled time to be towed out, she decided to catch the train to Toronto and return when the car was pulled out.
However, Slovik's impromptu hosts weren't done helping. They helped Slovik purchase a VIA rail ticket to Toronto and gave a her a suitcase to carry her Christmas gifts in.
"They bought my ticket and I paid them back," she said, noting it was her first-ever train ride.
On Boxing Day, Slovik got a ride to Chatham with her boyfriend's family, retrieved the car and headed back to the U.S.
The American traveller said she's in awe of how events unfolded during the storm and of the kindness of the strangers she met.
"I wasn't expecting this kind of help," Slovik explained. "It's like a Christmas miracle. The chances of me landing in someone's yard like that…it's like I met an angel.
"You never know," Slovik said. "I never thought I would meet such polite people. It definitely made everything easier. It certainly could have turned out differently."
Henceforth, Slovik said she will be prepared for winter driving and will "definitely" be packing flares, candles, blankets, a shovel and food "just in case" she encounters a storm on the road.
Slovik also had plenty of praise for Chatham-Kent police who oversaw her car tow and the 9-1-1 operators she spoke with throughout the ordeal.
"They were calm and very, very helpful."