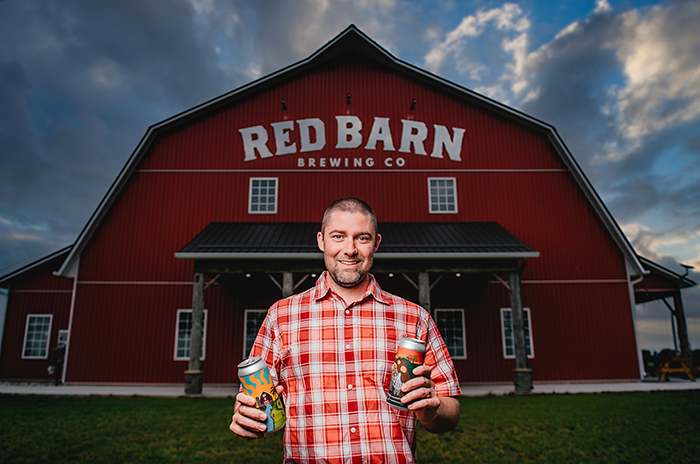 Chatham-Kent's Red Barn Brewery tapped into the Tourism Industry Association of Ontario keg recently, winning two awards.
The brewery, located between Blenheim and Charing Cross just off Middle Line, earned recognition for persevering through the adversity of the COVID-19 pandemic. The owners picked up awards for innovation and collaboration in the tourism sector.
Denny Vervaet, co-owner of Red Barn, said both awards pertain to their FarmFest celebration in September of 2021.
"In the middle of COVID, we were able to find a window for our grand opening," he said. "Being the new kids on the block, we really wanted to celebrate with our friends, Sons of Kent and Bayside."
So, Red Barn invited the other two local craft breweries to their Lagoon Road backyard on Sept. 11, 2021, and thousands of people stopped in to celebrate as well.
"Maybe it opened people's eyes to the craft brewing business. Craft beer is still in its infancy. We're not really competitive. WE all have different styles, different event spaces and different beers," Vervaet said. "We help each other out. Collaboration works. It makes us all stronger."
Vervaet estimates about 4,000 people attended FarmFest 2021. The success there spawned BrewFest this year, where each local brewery played host to their own themed festivals this summer, and invited the two other breweries to take part.
Vervaet said BrewFest will be an annual event going forward.
The innovation award came for Red Barn managing to open and grow during the pandemic. While FarmFest in September 2021 was their grand opening, the brewery actually sold its first beer on July 1, 2020, and navigated its first steps of existence through lockdowns.
"We did virtual tastings and had to figure out how to get cash flowing when we were closed down," Vervaet said. "We had our grand opening the year after we opened. We had to think outside the box just to stay alive."
The slower opening of the business helped Vervaet, his wife Sandy, and brother-in-law Dan English learn how to run the company, he said.
He said capturing the awards is incredible.
"It was really humbling to be nominated, and then to win in two categories, it was crazy," Vervaet said.
These days, they're open, indoors and out, and selling lots of beer, Vervaet said. Plans are to stay local, involve more partners and licensees, spreading Red Barn products through restaurants and pubs, as well as select LCBO licensee stores.