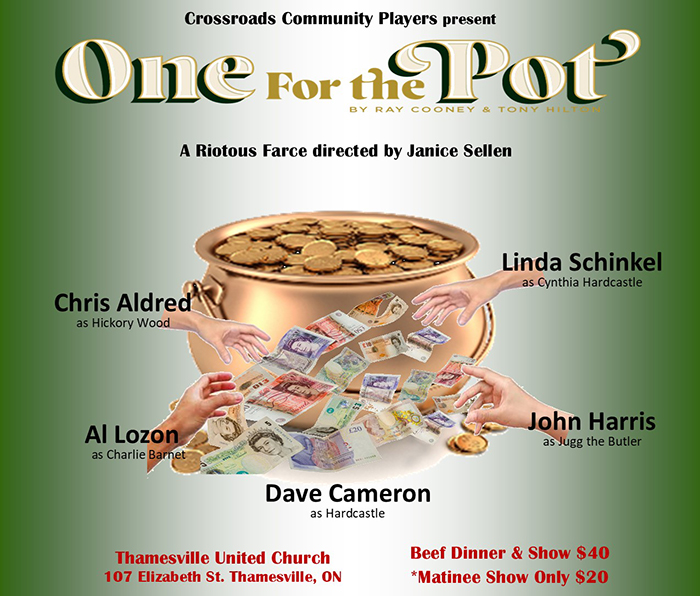 Food, fun and fundraising: That's the formula for success with the Crossroads Community Players this fall.
The Thamesville troupe will perform seven shows this month at Thamesville United Church, raising funds for the Four Counties Health Services Foundation.
Foundation fundraising co-ordinator Jackie Van Eerd Beatty said the money raised will go towards the purchase of nine new ECG monitors for the emergency department at the hospital in Newbury.
She said she's got past experience working with the Crossroads team – in fact, she's in the cast for the show – and saw this as a great opportunity.
"Janice (Sellen), the director, came to me and knew I was fundraising for the hospital in Newbury. We thought this would be great," Beatty said. "This takes place in Chatham-Kent, and even though Newbury is just outside the border, 40 per cent of emergency visits here come from Chatham-Kent."
The play is "One for the Pot," a British farce written by Ray Cooney and Tony Hilton. It will feature a lot of familiar faces, such as Chris Aldred, Al Lozon, John Harris, Linda Schinkel, and Dave Cameron. Cameo appearances will include the likes of Pat Weaver, Dennis Badder, Ed and Maureen McLachlin, as well as Beatty.
Dinner is part of six of the performances on the evenings of Nov. 11-13 and Nov. 18-20. There is also a matinee performance on Nov. 13 that is just the show, Beatty said.
The Crossroads team is very familiar with local fundraising. It has done dinner theatre for causes such as the United Way of Chatham-Kent, the Children's Safety Village, Dresden's splash pad, the Bothwell Boosters, Bothwell Legion, the Dresden Community Health Care Foundation, and more.
Beatty is happy to see Four Counties connect with Crossroads.
"The East Kent area has always been a really good supporter of the hospital. I thought it would be a fun way to fundraise and support local theatre," she said. "Four Counties (hospital) was made to service the rural areas of Chatham-Kent, Middleses, Elgin and Lambton counties."
Beatty said hospitals need to conduct fundraising to purchase important capital equipment.
"It's so important to keep health care healthy in rural communities," she said.
For tickets to the performances, call Beatty at 519-784-4274. Prices are $40 per person for dinner and the show, and $20 for the matinee show.