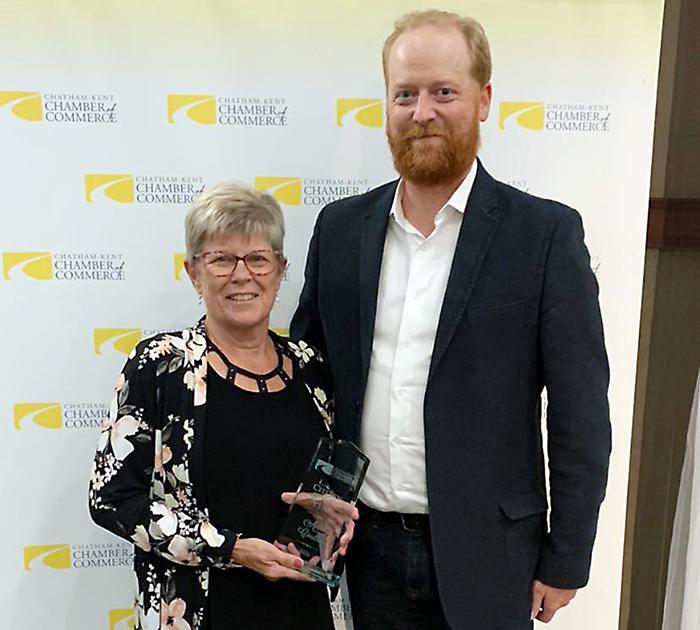 It never gets old.
The Chatham-Kent Chamber of Commerce held its 134th Business Excellence Awards Oct. 19, and recipients were singing the praises of the event.
Anne Coulter earned Citizen of the Year, while Four Diamond Events was named Corporate Citizen of the Year.
Maple City Homes was Business of the Year (Medium), and co-owner Robb Nelson also earned Entrepreneur of the Year.
Mallory Law picked up Business of the Year (Small), and Curtis Lemieux of Willy's 420 Supplies was named Young Entrepreneur of the Year, Prem's Tiffany Cunningham was tabbed as Young Business Individual of the Year, and Maria Whittal, who runs Ohana Ice, took Youth Entrepreneur of the Year.
Coulter said learning she was named C-K's top citizen caught her off guard.
"I was humbled and surprised. I think there are plenty of people who deserve it more," she said.
Coulter has worked to improve life in Chatham-Kent since 1983, when she first moved here.
"It started back when I started volunteering in Chatham-Kent in 1983," she said, when she moved here with her husband, the late Walter Coulter. "Since that time, I've been involved in numerous organizations and council. And when Walter died, I established the Walter Coulter Memorial Garden."
That garden, located in Maple Leaf Cemetery, has grown and become a place of peace in the community.
"It's now not just a little garden. It encompasses a large area of that flood plain. The Theresa Vince monument and other important memorial stones are there now," Coulter said. "It's grown to this amazing memorial garden. People come and have wedding pictures taken, or they bring their kids just to come and play. It's a beautiful place now."
Coulter has had her helpful hands in many a C-K cookie jar. She's on the Active Lifestyle Centre board currently, has worked with numerous non-profit groups, helped establish Transition House (a haven for homeless teens), served on council for two terms, and lent a hand wherever it was needed.
"This is a wonderful community. People can be as active or inactive as they want to be," Coulter said, encouraging everyone to get involved in their community as much as they can. "It doesn't matter if you are delivering a meal to a senior, or planting trees or organizing an event like Crowfest, everyone is able to give something to this community. Look around and see where you fit."
It just so happens Coulter fits in all over the place.
"Just do something. Make this community a better place," she suggested.
A simple single kind act a day is a great starting point, Coulter said. Even saying hello to a passerby.
"If we could all just think of one kind thing to do every day. Every person we meet when we go for our walks, I have made a habit to acknowledge them. At times, it is amazing the reaction you get," she said.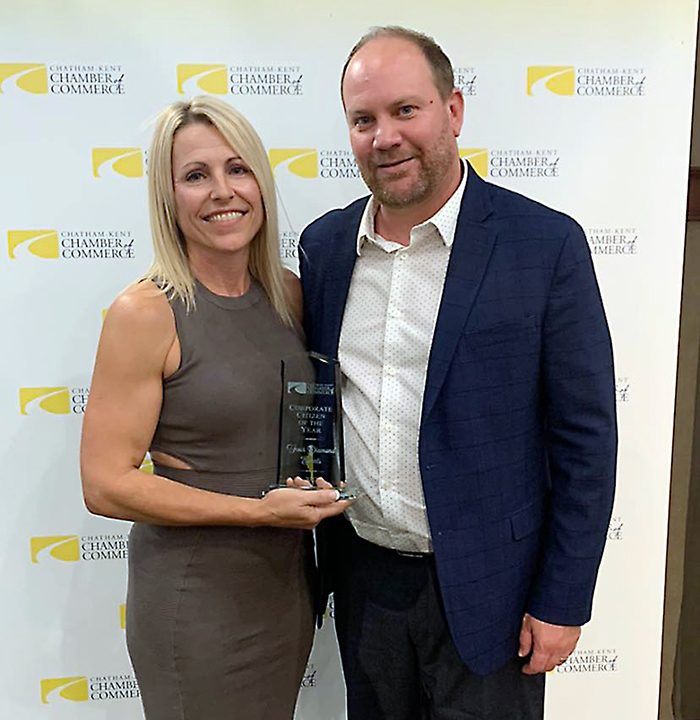 Lisa Lester, who runs Four Diamond Events, called earning the corporate citizen award "inspirational.
"It's great to be recognized. I was very surprised when they called me and told me we got it," she said. "We've done a lot of work, even though the weather didn't always agree with us and all our activities. It was worth it just to bring the community together."
Lester has worked diligently to expose the Chatham Armoury to the public. It's a building she first set foot in decades ago when Chatham still hosted the Festival of Nations.
From outdoor events that have used the historic landmark a an animated backdrop – for past Christmas and Halloween celebrations – to the plethora of indoor gatherings and galas, the Armoury has become an attractive venue for small and large events.
Lester said the community events have been done to add smiles to faces, provide a spark in people's lives. She'd love to see more people embrace the positives in the community.
"It doesn't matter if you're the person serving Timmy's downtown, or the doctor on the emergency department floor, we all have a crucial role to make Chatham-Kent the best it can be," she said. "Community is all about bringing people together so we can adopt the same mindset basically. We work together on something bigger than our own lives. We're creating a more vivacious Chatham-Kent."
Lester said it takes a team to make things happen at the Armoury, inside and out.
"I just want to thank the people of Chatham-Kent for the support. Our staff is amazing at the Chatham Armoury. They work tirelessly," she said, adding her family has also been incredibly supportive.
Lester hinted there will be partnerships with the Chilled Cork and Sons of Kent in the future.
"We're looking at doing some things together to really boost the downtown," she said. "We want to make everyone feel part of something again."
The Armoury will play host to more Christmas fun this year, but indoors, Lester said, and they are "recruiting elves" these days. More information will be revealed after Remembrance Day, she promised.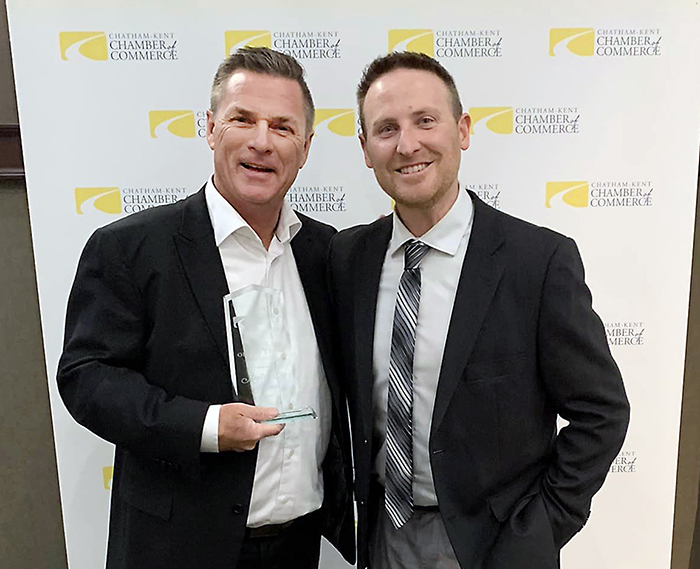 Nelson said Maple City Homes (MCH) earning a Business of the Year award goes back years and beyond just MCH staff.
"To see a plan come together of a community of people, to have more than 50 community trades and about 20 full-time staff, and take all our partners and the vision we've put forward – everyone believed in it and everyone executed it in an unbelievable fashion," he said. "That's how big plans can be executed – a collaborative effort by a lot of really good people."
MCH arrived on the scene in 2017 and delivered its plan on large-scale subdivision builds in Chatham-Kent.
The building continued, and expanded, even through the COVID-19 pandemic, delivering new homes in large numbers during high demand.
Nelson said the support of local trades, and local suppliers, made a huge difference.
In terms of winning as top entrepreneur, Nelson said it's been a long road. 
"I've been self-employed on and off for 44 years. You learn at a very young age what it is to be an entrepreneur, to go through a lot of economic changes," he said, adding the payoff is incredible. "It's humbling to see people believe in our ideas."
Nelson, along with his wife Kim O'Rourke Nelson, started Family Lending, a mortgage company, and built up from there. They're partners in MCH and have added AgriRoots – a lending agency specializing in supporting the agricultural sector – to their portfolio.
"Family Lending is a community of our family helping your family get a home," Nelson said. "We operate in nine provinces. AgriRoots helps a community of farmers, and MCH brings tradespeople and suppliers together to build Chatham-Kent into a bigger and better community."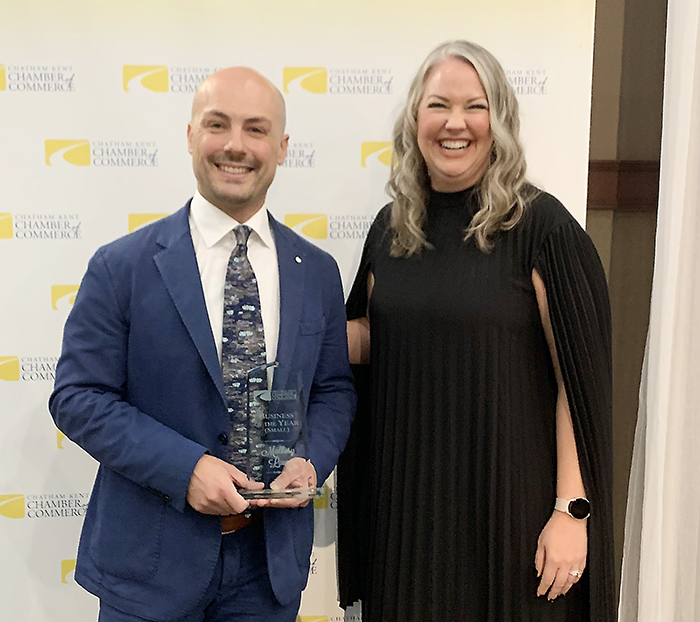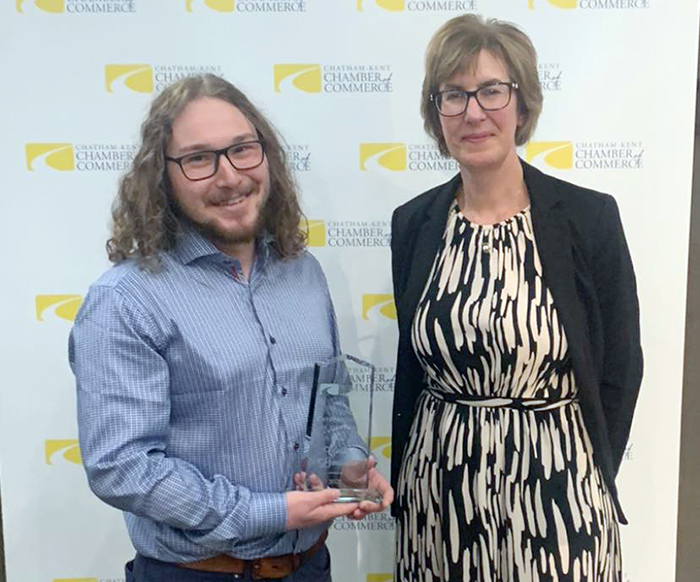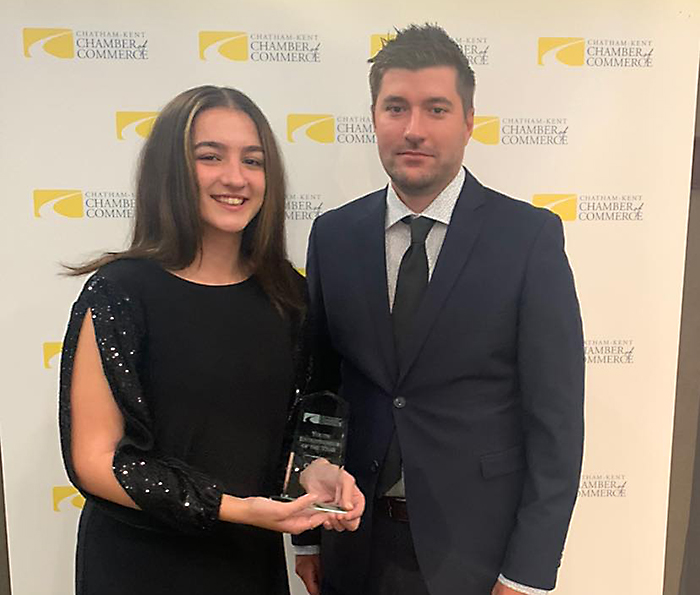 Tiffany Cunningham earned Young Business Individual of the Year honours. Presenting her with the award is St. Clair College's Waseem Habash.