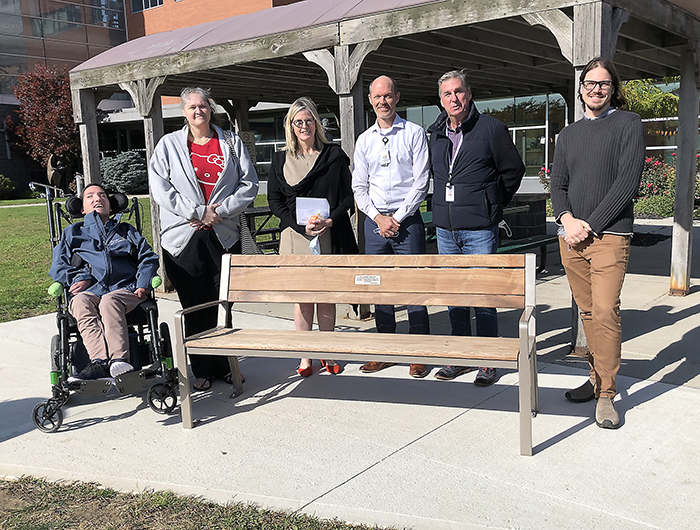 By Pam Wright
Local Journalism Initiative Reporter
Keegan does in fact care.
So much in fact, the budding entrepreneur has donated 100 per cent of the proceeds from his Keegan Kares business website to the One Bench One Tree initiative.
The endeavour is meant to honour frontline health-care workers by providing an outdoor resting spot, complete with a bench and a single tree planted directly in front of it.
A special dedication ceremony showcasing the new addition was held at the Chatham-Kent Health Alliance Friday in the Riverside Courtyard on the banks of the Thames River.
"We are really excited to have this," said Keegan's mother Brandee Mackey of Wallaceburg, who spoke on behalf of her son as he is mute with complex medical needs.
Mackey, who has a daughter who also has complex medical needs, said the family has plenty of interaction with the Chatham-Kent Health Alliance and they wanted to give back, especially in the aftermath of COVID-19.
"The hospital is very important to us," Mackey said. "We want health-care workers to take a moment for self care." 
Self care is what Keegan Kares specializes in. The home business creates hand-made bath bombs, shower steamers and greeting cards, which Keegan helps design despite being confined to a wheelchair.
The business accommodates people with allergies and does custom orders for special events such as baby and bridal showers.
Mackey said the family saw the One Bench One Tree effort in the media and immediately wanted to get involved.
Manuel Spiller, one of the One Bench One Tree founders, was on hand at the dedication. According to Spiller, a team of University of Guelph post-graduate students studying landscape architecture came up with the idea during the January 2021 lockdown as a way to recognize health-care workers.
They hope to install One Bench One Tree at every hospital in Canada.
"We wanted it to be a place of rest," Spiller said, adding the tree is planted two metres in front of the bench intentionally, providing a "place to focus."
Spiller pointed out that while there is plenty of societal "rhetoric" out there claiming the pandemic over, but noted it isn't over and pressures continue for health-care workers dealing with staff shortages and treatment backlogs.
"We want to recognize the work of these heroes who are fighting an invisible enemy," Spiller added.
Chatham's Earthworks Garden Centre donated the installation services, while Harris Brothers Limited donated the concrete for the project. 
Hospital officials are hoping to install One Bench One Tree at the Wallaceburg site as well.