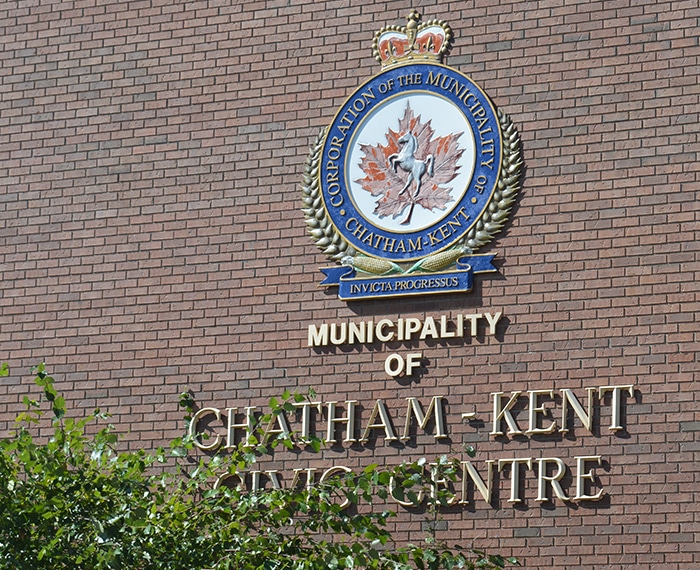 By Pam Wright
Local Journalism Initiative Reporter
A 13-storey high-rise apartment building on Grand Avenue in Chatham has been given the green light by Chatham-Kent Council.
To be built along the Thames River, the structure was approved at the Nov. 15 planning meeting despite concerns raised by a Chatham councillor.
Karen Kirkwood-Whyte, who represents Ward 6, outlined two specific issues regarding the new building. One related to the Brickworks Tiny Homes complex to be built on Taylor Ave on the other side of Grand Avenue.
Kirkwood-Whyte said she had received calls from residents concerned about the possible effect of long shadows cast by the high-rise, wondering it will hamper the ability of the Brickworks complex to utilize solar energy to meet its net zero energy goal.
Currently in the planning and approval phase, Brickworks plans to construct 30 affordable living units nearby, but across Grand Avenue, with a common living area and garden.
Access to parking for the Alzheimer's Society of Chatham-Kent was another concern, Kirkwood-Whyte expressed, as the numbers of local residents needing access to the service in is expected to double in the future.
The parking lot, which the Alzheimer Society currently leases from a private owner, will be used to provide parking for the new apartment building across the road.
Kirkwood-Whyte said that's a concern, as employees and clients attending the Alzheimer Society day program need convenient access to the building.
Kirkwood-Whyte said that while she would be "one of the last people" to oppose new housing, she doesn't want new construction to have negative impacts.
Ryan Jacques, director of planning services for the municipality, said a shadow study for the new building hadn't been prepared but staff plans to undertake one in the event it's needed in the future.
As for use of the Alzheimer Society parking lot, Jacques said the space is privately owned and its use is decided between two private developers.
One deputation on the matter was also made. Les Wolfe, the owner of the new Home Hardware, located close to the new high rise, said he would like to see the proposed installation of streetlights at the corner of Grand Ave. East, Taylor Avenue and the entry way to the new building fast-tracked.
In his letter, Wolfe asked council to "please consider moving up" the date for new lights due to increased traffic from the new gas bar and his soon-to-be-opened store.
Jacques a traffic study has been carried out and lights are not warranted at this time.
However, he said council in upcoming 2022 budget deliberations, could review the matter.
At the meeting, council amended zoning requirements for the apartment building to allow the structure to expand from 10 storeys to 13. The residential density requirements were also amended, as were the parking space requirements.
Comments
comments