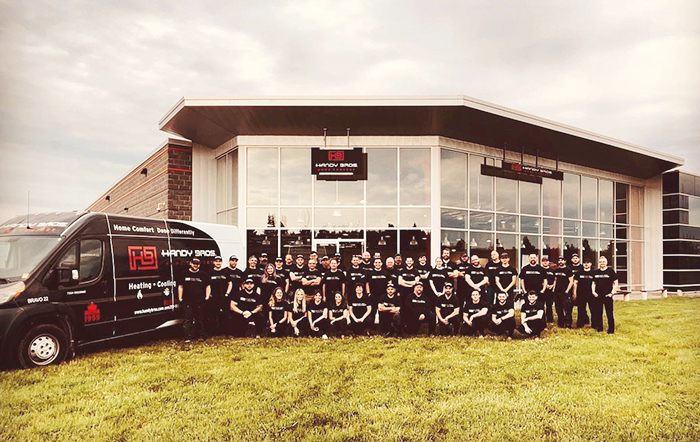 Local HVAC firm relocating closer to Hwy. 401
"Handy Duke's."
That's what Mitch White, CEO of Handy Bros. Climate Care, calls the company's future home.
The heating and air conditioning firm, located on Communication Road at the north end of Blenheim, has outgrown that location. White and his brother Nic took over the business in March of 2018 and aggressively started growing the company.
They have 55 people working for them, and not enough space for everyone at this point.
"Our building became addition after addition. We're out of property. So we started looking at severing land here, but that was tough," he said.
Enter the site that used to house Duke's Harley-Davidson next to RM Auto Restoration, owned by RM's Rob Myers.
"Duke's just fell into our lap. We met Rob Myers. He didn't' really want to sell, but after getting to know Nic and I, he sort of took us under his wing," White said. "He worked with us on the building.
Work is underway on getting all the necessary permits in place to allow for renovation of the building and expansion. The brothers plan to add on a large warehouse.
They hope to be in by Christmas, White said.
"This for us is a 30-year-plan," White said.
He credits the employees for the company's success and need to expand.
"When Nic and I took over, we built a really great team around us. All of our successes we owe to the guys and girls we have here," he said.
White said he's impressed at how quickly the company has grown.
"When I look back, it feels like I've been doing it so long, but it hasn't been that long," he said. "We've taken the company to almost five times what it was."
He goes back to the Handy Bros. team as the reason for the success.
"We're a team, with commitment and loyalty. We're also a family. We have an amazing culture here," he said. "When Nic and I took over, we promised ourselves to use the company for something bigger than ourselves."
Enter their Handy Bros. Heroes initiative, where the company looked for ways to help individuals and families deserving of such aid.
"We aren't using this company for personal gain; we're giving back to the community," White said.