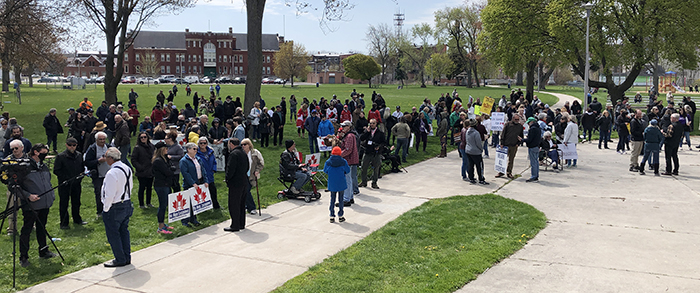 A total of five people now face charges in connection with the April 26 Freedom Rally in Chatham.
Two people were initially charged, but Chatham-Kent bylaw enforcement officer Travis Maxwell told The Chatham Voice the event was still under investigation and other charges were in the works.
"We're still investigating," Maxwell explained, adding names of those who have been ticketed have yet to be released.
Charges may be brought for up to six months following the event.
The municipality currently has seven bylaw officers working Monday to Friday during office hours, responding to complaints.
COVID-19 issues are keeping bylaw officers "fairly busy," Maxwell said.
After hours and on weekends, the Chatham-Kent Police Service takes on the task.
Municipal officials have stated publicly that they prefer taking an educational approach to deter people from breaking COVID-19 safety protocols, rather than issuing tickets.
Bylaw officials did not lay charges as a result of the April 30 "Opening Day" event promoted on social media encouraging businesses to violate the anti-COVID measures. Prior to the day of the event, the organizer announced the event was cancelled due to lack of interest.
Chatham-Kent police, Public Health inspectors and bylaw enforcement officers all conducted inspections of the businesses associated with the event.
Inspections took place throughout the day and none of the businesses were found to be in violation of the provincial regulations.
The Freedom Rally held in Tecumseh Park saw about 300 people in attendance. A number of leaders spoke from the podium including 'No More Lockdown' leaders MPP Randy Hillier and outspoken Aylmer pastor Henry Hildebrandt.
Both have been charged in connection with similar rallies and religious gatherings in other jurisdictions.
According to the Ministry of Solicitor General, violating the Reopening Ontario Act can result in a minimum $750 fine for individuals, and a maximum penalty of $100,000, plus the possibility of prosecution or jail time.