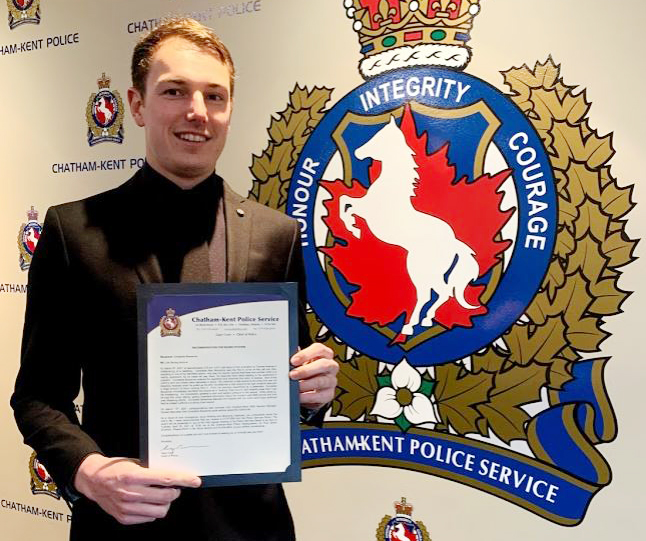 By Pam Wright
Local Journalism Initiative Reporter
In the early morning hours of March 9, Const. Max Bossence had the right stuff at the right time.
His quick actions at a violent stabbing in Wallaceburg saved a man's life, earning Bossence a citation from the Chatham-Kent Police Services Board.
First on the scene at 3:55 a.m. following a 9-1-1 call, Bossence discovered multiple stabbing victims at an apartment complex.
After speaking with witnesses, the officer followed a trail of blood into another apartment and discovered a man with a life-threatening sucking chest wound.
Bossence used a shirt to put pressure on the wound. He then kept the victim talking, gleaning important information about the crime, while accompanying the man to hospital via ambulance.
A former paramedic who became a Chatham-Kent police officer in 2019, Bossence knew what he was doing and saved the man in the nick of time.
CKPS Chief Gary Conn called Bossence's actions "courageous" and because of his quick thinking he "undoubtedly saved the man's life."
A letter from Chatham-Kent EMS General Manager Don MacLellan also praised Bossence's quick action, confirming the man did indeed suffer a sucking chest wound.
Chatham-Kent Police Services Board chairman Pat Weaver calls Bossence the "perfect example" of the new style of police officer the service hopes to have.
"People like Max are the cops of the future for us," Weaver said.
Bossence humbly accepted the award and praised the actions of paramedics who tended to the victim, adding, "They deserve just as much credit."
He said he was "very honoured" to be chosen for the citation, admitting his former work as a paramedic allowed him to recognize the severity of the injury.
Conn formally presented the citation to Bossence at the regular police services board meeting at Chatham-Kent Police headquarters April 20.