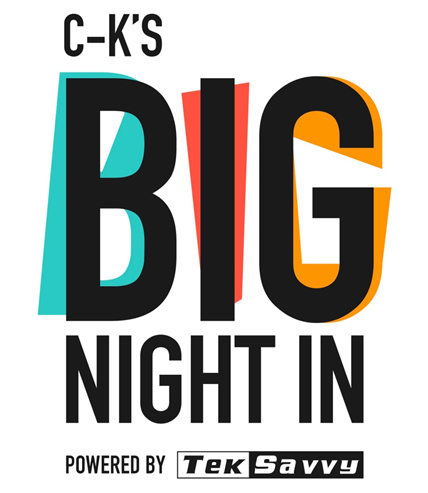 It's almost party time in Chatham-Kent, despite the restrictions of the COVID-19 pandemic.
C-K's Big Night In takes place May 8 and features nine different local musical acts, all performing at different venues around Chatham-Kent.
The kicker? You get to enjoy the shows from the comfort of your own living room.
Since the stay-at-home order prevents you from coming to the party, organizer Dava Robichaud said the party is coming to you.
Robichaud, the events co-ordinator with TekSavvy, the event's main sponsor, said the idea formed as she and a group of others chatted about the need to give the community a boost.
"We were thinking we needed to do something. This is enough," she said of the lingering pandemic and associated restrictions. "Chatham-Kent citizens are depressed, suffering from mental anguish and isolation. Small businesses are suffering and some have closed. Chatham-Kent needed something."
That something is the Big Night In. The bands, recorded before the stay-at-home order took effect and done under COVID protocols, will be shown via streaming on YourTV Chatham, TekSavvy TV and on YouTube on May 8, from 7 p.m. to 9 p.m.
"It had to be big. It had to be fun," Robichaud said. "It's not the size and scope we had originally planned, thanks to COVID and the provincial restrictions, but it's going to be great."
While the pandemic has curtailed gathering in large numbers and has us currently isolating in our homes as much as possible under the provincial restrictions, Robichaud said this is one way to bring everyone together, yet keep them apart.
"You can have an experience with the rest of the community and have a dance party in your living room with your family," she said.
Robichaud hopes people will reach out to support Chatham-Kent restaurants on the night of the event as well.
"We're encouraging people to do takeout from local restaurants and support local businesses," she said. "We also encourage local food and beverage establishments to have fun with it with some Big Night In specials. We just want everybody to have fun."
Robichaud said that the critical piece to all of this is local collaboration. She credits local video production teams, the performing artists, local businesses and the non-profit sector for working together.
Morena McDonald, director of marketing and communications with the United Way of Chatham-Kent, and one of the organizers of the May 16 Miracle, said the event should be a great shot in the arm.
"I think we have all seen the strength of this community, we've inspired each other, and we've also been an inspiration to other cities and provinces. This celebration will be the perfect way for us all to come together with one massive virtual hug and hopefully give us all some extra energy going into spring and summer," she said in a media release.
More information can be found at www.ourbignightin.com.
Comments
comments