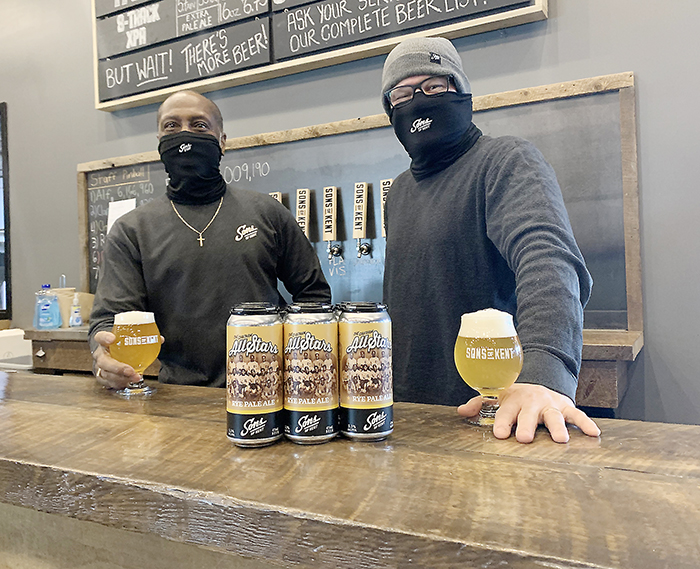 Beer pays homage to 1934 Chatham Coloured All-Stars team
By Bruce Corcoran
Once again brewing for a cause, Sons of Kent Brewing Company has produced another beer with a message. This time it's during Black History Month.
The brew is in honour of the 1934 Chatham Coloured All-Stars baseball team that was the first all-Black team to win a provincial title.
The product, The Chatham All-Stars Rye Pale Ale, is an offering to raise funds for the Chatham-Kent Black Historical Society and the Black Mecca Museum in Chatham, and to also raise awareness of the trailblazing the team did nearly 90 years ago. The hope is to see the team enshrined in the Canadian Baseball Hall of Fame.
Brock Greenhalgh, author of the book "Hard Road to Victory: The Chatham All-Stars Story," approached the Sons of Kent owners just before Christmas to consider brewing a product to commemorate the team, Doug Hunter, one of the owners of Sons of Kent said.
"In conjunction with his book, I thought it would be a really good idea. I talked to the guys and said, 'so let's do one,' and that's how it got started."
Brewmaster Colin Chrysler went to work in early January.
"Colin came up with the recipe. Colin's the guy. He's got a big arsenal of recipes that he can go from that he can tweak and do stuff with," Hunter said.
With label creation coming from Greenhalgh's end, the Sons of Kent were soon rolling cans off the line.
The beer is garnering attention, exactly what Greenhalgh and Sons of Kent personnel had hoped to see.
"It has worked out really well. Beer sales have been great," Hunter said. "Brock is really pushing to get these guys into the Canadian Baseball Hall of Fame. If we can do that, it would be great."
READ MORE: Author pens Coloured All-Stars children's book
The attention is also coming from outside Chatham-Kent, even outside the country.
Chatham baseball legend Ferguson Jenkins, a member of the Baseball Hall of Fame in Cooperstown, New York since 1991 and the Canadian Baseball Hall of Fame since 1987, loved the idea of Sons of Kent brewing a fundraising and awareness raising beer in tribute to the Coloured All-Stars.
"What a great tribute and an amazing cause in the C-K Black Historical Society," he said in a social media message to The Chatham Voice. "My dad proudly played for the Coloured All-Stars. I hope they raise a lot of money."
Jenkins also teamed up with Sons of Kent in 2019 to produce Fergie's Classic Pilsner, which was sold as a fundraiser for the Children's Treatment Centre of Chatham-Kent.
Hunter said they are working to get Jenkins, who lives in Texas, some of the beer.
"We're actually trying to figure out how to get him (Jenkins) some beer. We can't ship it down to the States. We might be able to get him some through his daughter if we can," he said.
Another son of a former All-Star has also reached out to the brewery. Hunter said a son of one of the All Stars, Don Tabron, lives in Michigan.
"The son played with Fergie Jr. and he's contacted me from over in Detroit. So I'm holding beer for him until after the pandemic is over. He can then get some beer to give to his buddies," Hunter said. "We've gotten calls from all over the place."
Getting involved in the project was a no brainer for the Sons of Kent, a brewery known to champion numerous fundraising efforts over the years. It also has fairly direct ties to the All-Stars, Hunter said.
"They had their 85th anniversary gathering in 2019 and we hosted the function here at the brewery. It went over really well, so we kind of had background on it," Hunter said.
He could only imagine what the team had to endure in terms of systemic racism in the 1930s.
"I'm sure it was pretty tough," Hunter said of what he imagines members of the team had to endure back in 1934. "They changed their name to the Chatham All-Stars (for the 1934 playdowns) because they felt they might not be able to play where they were going."
While they played, the team faced discrimination on and off the field, often finding it difficult to get lodging for away games and having insults hurled their way from the stands.
None of it prevented them from winning the provincial Intermediate B title in 1934, competing in the finals in 1935 and advancing again in 1939.