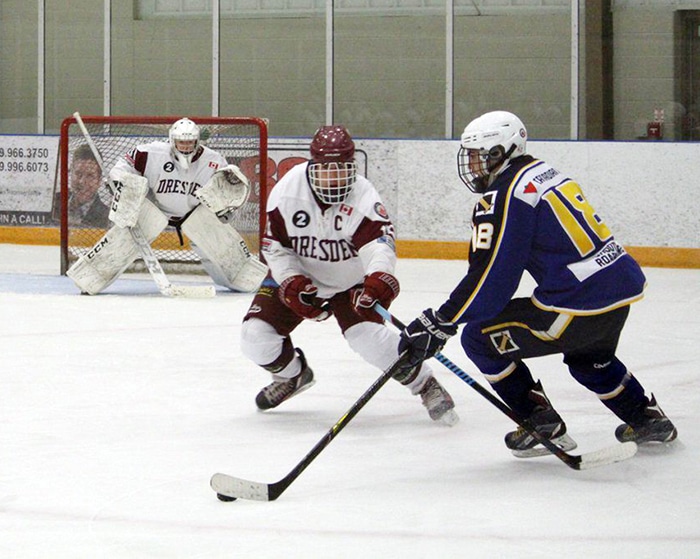 By Bird Bouchard, Local Journalism Initiative
The Ridgetown Independent
While local junior hockey remains a question mark for the upcoming local hockey season, fans might still have the chance to watch a local, familiar face on the ice.
London Knights goalie Brett Brochu of Tilbury was invited to Canada's national junior team selection camp to be held Nov. 16 to Dec. 13 in Red Deer, Alta.
Players at the 46-man camp will be trying to make Team Canada for the 2021 World Junior Championships, which begin Christmas Day in Edmonton.
Brochu, a former Dresden Jr. King, was first in goals-against average (2.40), second in save percentage (.919) and tied for second in wins in the OHL last season.
In his first season in the OHL, Brochu played better than any other rookie goaltender in the London Knights' 55-year history. He went on to set a franchise record with 32 wins and was awarded the FW Dinty Moore Award, given to the OHL's rookie goalie with the lowest goals against average.
He went 32-6-0-0 with two shutouts while setting the OHL record for the most wins in a season by a 16- or 17-year-old rookie. He won 22 of his last 23 decisions.
"It's nice when you get rewarded like that from hard work and dedication," said Brochu in April when he received the award. "It's also important to keep everything going and keep the foot on the pedal, making sure you're always getting better."
Getting better is exactly what Brochu has done throughout the extended off-season. After recent news of the OHL season opener start date getting postponed to Feb. 4, Brochu said he is choosing to focus on what he can control. He is working out every day off the ice, getting stronger, putting on weight and gaining size. Despite being a young goalie with a smaller frame in the net at 5-foot-11, Brochu realizes he has defied the odds time and time again.
"It's something I didn't think about last year," said Brochu. "Even at the start of the season, I was just trying to not be sent down, and I wanted to stick with the team, and that's what I was focusing on."
While there are no hockey games currently being played, Brochu continues to improve his game. He is hopeful the OHL season will return one day. He believes having a positive attitude along with hard work and determination can lead anyone to success, no matter where they come from.
"Don't give up because there's always hope in everything," said Brochu. "That can go for anything even out of hockey. Even in our community, we need to stay positive with everything and realize everything happens for a reason. Don't give up."
Brochu will compete against Dylan Garand, Taylor Gauthier, Tristan Lennox, and Devon Levi for a roster spot. He is one of three undrafted goalies in camp.
Comments
comments