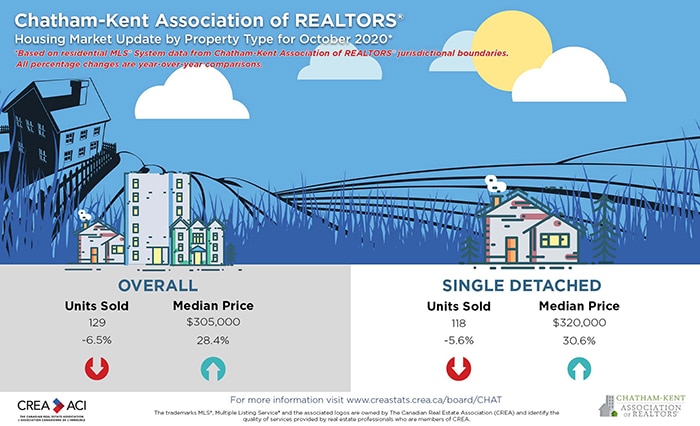 While actual home sales dipped slightly last month compared to the same period a year ago, there is a silver lining for the local real estate market.
Michael Gibbons, president of the Chatham-Kent Association of Realtors, said the number of homes for sale is finally on the rise.
"New listings outpaced sales this past month, helping to stabilize the declining number of active listings. However, current overall inventory is still hovering only slightly above the lowest levels in history," he said in a media release.
There were 156 new residential listings in October, up 6.8 per cent (10 listings) on a year-over-year basis.
A total of 129 units changed hands this October, compared to 138 a year ago. That's a drop in sales of 6.5 per cent.
"Home sales in Chatham-Kent came closer to historically average levels in October," Gibbons said.
"Meanwhile, average price continued its trek higher, setting a new record for the third time in four months."
The average price of homes sold in October 2020 was a record $329,495, an increase of 33.3 per cent from October 2019.
On a year-to-date basis, home sales totalled 1,126 units over the first 10 months of the year. This edged down 3.8 per cent from the same period in 2019.
Pricewise, the year-to-date average price was $305,327, up 21.6 per cent from the first 10 months of 2019.
Overall, inventory continues to hover slightly above the lowest level on record. Active residential listings numbered 138 units at the end of October. This was a steep decline of 35.2 per cent from the end of October 2019.