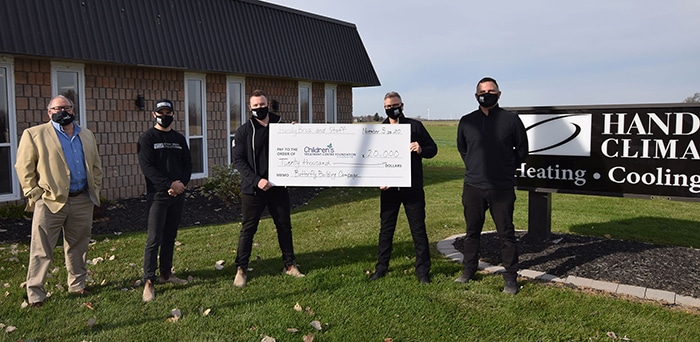 HandyBros ClimateCare helped the Children's Treatment Centre Foundation get a little closer to its building goal recently, donating $20,000 to the Butterfly Building Campaign. Employees of HandyBros contributed $7,500, with the company adding $12,500 to reach the $20,000 mark.
The Children's Treatment Centre provides services to one-in-five children and youth in Chatham-Kent, with 1,300 children on a waiting list for services. The CTC-CK's Butterfly Building Campaign will support building a larger, state-of-the-art facility that will better accommodate the growing caseload.
"Our staff see the need in the community to help the kids and want to make a difference. We are so proud to be a part of making this donation to the CTC Foundation with them," Mitch White of HandyBros said in a media release. "Since the day my brother Nic and I took over HandyBros, we vowed that we'd use this company to make a difference in this world. Children and youth and the needs that they have run very close to our hearts."
The CTC-CK features 70 years of experience providing specialized, quality therapy to children and youth with special needs in our community.
"I would like to thank Handy Brothers, Mitch White, and his staff for helping the kids of the Children's Treatment Centre. Management and staff see during this pandemic that our lack of space is what determines how many families we can service at the CTC. Our new building is more important then ever to allow our kids to access our services," Mike Genge, president of the Children's Treatment Centre Foundation, said.