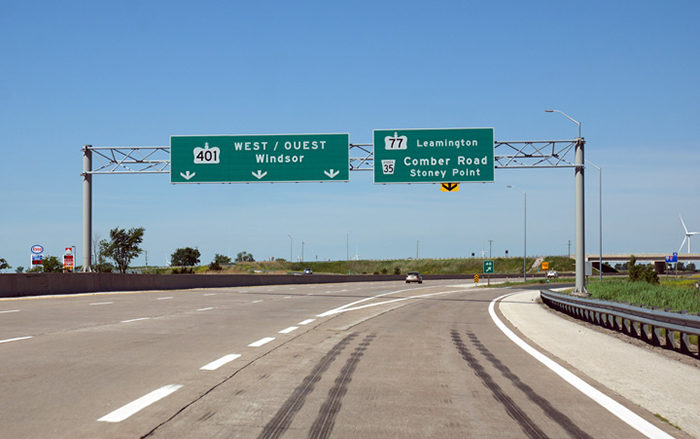 By Pam Wright, Local Journalism Initiative
The Thamesville Herald
Members of the advocacy group 'Build the Barrier' are cautiously optimistic about the province's plan to install concrete barriers on Highway 401 between Tilbury and Merlin Road.
The recent announcement came almost three years to the day since the grassroots group travelled to Queen's Park to plead its case.
"It's a start," says Build the Barrier founder Alysson Storey of the 10.4-kilometre section chosen for upgrade. "Only 107 kilometres left."
"It's one of the most dangerous stretches of road," says Storey of the section, adding it's extremely narrow with a deeply sloped median. "It's terrifying."
The road will also be widened to six lanes at the spot from four and a new storm sewer will be built.
Build the Barrier was formed in September 2017 after a London woman and her five-year-old daughter were killed when an impaired driver crossed over into the oncoming lanes of traffic, striking their vehicle.
Storey was a friend of Sarah Miles Payne and her daughter Freya. Their deaths in August 2017 prompted the group's formation.
According to Storey, group members, as well as the general public, have been scratching their heads for years, as to why 117 kilometres of the road – dubbed  'Carnage Alley' – was left without concrete barriers.
"We've puzzled over that for years," Storey explains. "We have no idea, it's very odd to leave this gap."
It doesn't make sense, she adds, as concrete barriers prevent crossover collisions "100 per cent" of the time.
According to logs kept by the group, there have been two fatalities and at least 10 major collisions on the designated 10.4-kilometre stretch.
Aside from the human cost, the collisions result in closing Canada's busiest highway, creating detours that put extreme pressure on county and municipal services.
Storey credits former Transportation Minister and current Environment Minister Jeff Yurek with fighting for the concrete barriers.
"We could have never got this far in our journey without Minister Yurek's leadership," Storey stresses. The Elgin-Middlesex-London MPP and Chatham-Kent-Essex MPP Rick Nicholls, were both present when Build the Barrier presented a petition at Queen's Park.
Coco Paving has been awarded the contract to complete the work.
There have been a total of 12 fatalities and multiple hospitalizations between Tilbury and London since 2017.
Minister of Transportation Caroline Mulroney announced a new transportation plan for southwestern Ontario earlier this year.
The plan sets out five goals for regional transportation, including making Hwy. 401 safer between London and Tilbury by widening the road and adding a concrete barrier.