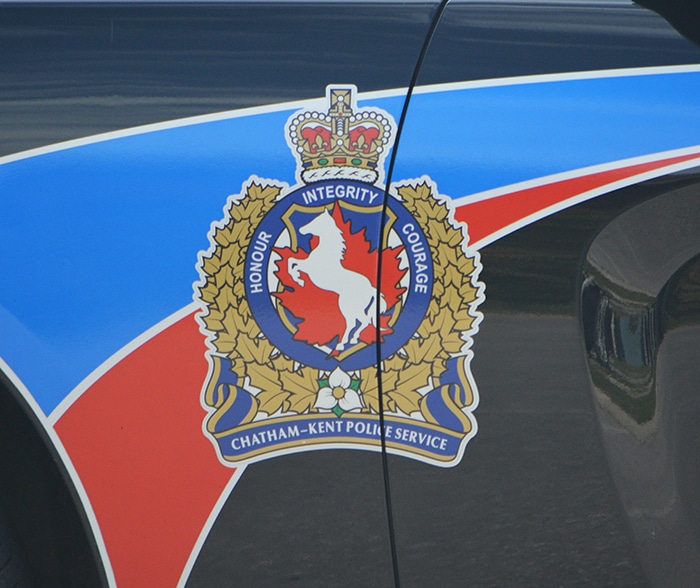 Dangerous driving
Chatham-Kent police say a woman was dragged through an intersection yesterday, her arm caught in the window of the vehicle.
Yesterday afternoon, a woman was driving her partner home when a verbal argument began in the car.
When stopped at an intersection, the incident escalated into a physical altercation. The victim exited the passenger side door, grabbed her belongings and started walking away until she realized that her keys were still in the vehicle.
As she returned to the car and reached in to grab them, police say the driver rolled up the window on the victim's arm and accelerated through the intersection.
The woman drove about 30 feet before the victim's arm became dislodged from the window. She fell to the roadway and sustained non-life-threatening injuries.
A 35-year-old Chatham woman was arrested and charged with dangerous driving causing bodily harm. She was released pending a future court date.
Teen sneaks into someone's house
Yesterday morning, an observant citizen spotted a youth enter a home on St. George Street in Shrewsbury. Chatham-Kent police contacted the homeowner and confirmed that the youth was not given permission to enter the home.
Officers attended the residence and the youth was taken into custody.
A 15-year-old Chatham youth was charged with unlawfully being in a dwelling. He was released pending a future court date.
Watch for wildlife
Yesterday, between 3:30 p.m. and 6:30 p.m. officers responded to three collisions involving deer in the area of Orford Township and Zone Township. No one was injured.
Chatham-Kent police wish to remind everyone to be more vigilant on our roads, especially during dusk and dawn, which is when most collisions with deer occur.
Being aware and taking precautions can reduce collisions, save lives and protect wildlife, police say
– Scan the road ahead from shoulder to shoulder for any movement.
– Use high beams at night, when possible, and watch for the glowing eyes of animals.
– If an animal is crossing the road, stop as safely as possible, in your lane.
– Remember, if one animal crosses the road, others may follow.
– Never swerve suddenly. This may cause you to lose control of your vehicle, resulting in a more serious collision.
For more information on how to reduce your chances of hitting an animal, please see
http://www.mto.gov.on.ca/english/dandv/driver/handbook//section2.10.7.shtml