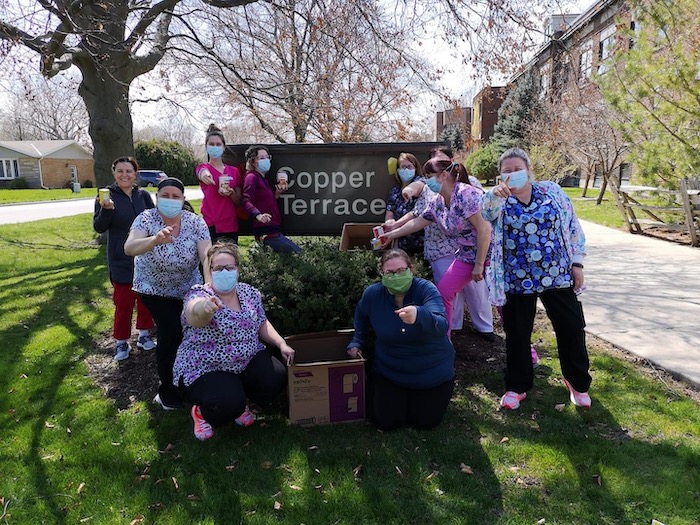 Jenna Cocullo, Local Journalism Initiative
Calling all nursing homes and residencies in Chatham-Kent.
The Copper Terrace Long Term Care Home has challenged you to a food collection battle. Are you in?
Copper Terrace workers Darlene Rylett and Dawn Caughey, are organizing a challenge for the May 16 Miracle, a community effort to get every home across Chatham-Kent to donate one can of food.
To keep everyone distracted from the gloom of COVID-19, Rylett has gone to work dressed like a dinosaur and has her daughter sing to residents.
She then wanted to find more ways to keep everyone's spirits going.
When the May 16 Miracle was announced, Rylett asked Copper Terrace staff to collect as many food items as they can and had the idea to turn it into a friendly competition.
READ MORE: 'One can, one doorstep, May 16'
"Staff is stressed out right now so it is something we can do to help keep their mind off things. And it's working; the girls and everyone are pumped about it," she said.
Rylett is also looking forward to giving back to those that have lost their job as non-essential businesses were forced to close.
"We want to give back because we are working. Even though it's not a great time to work in homes, there's a lot of people who lost their jobs. And so we just want to give back," she said.
The challenge began on Wednesday and by the end of the day, Copper Terrace had already collected an entire box of food.
Rylett and Caughey, who are hoping to get the word out to more homes, said those they have reached out to so far have been on board and very positive.
The general public can also help. Copper Terrace is also doing curbside donations in the community. Anyone who wants to assist them in the challenge can message Darlene Rylett on Facebook or call/text at 226-627-0897.
Donations for each home will be collected up to May 14 and left on the doorstep of each home on Miracle day.
Comments
comments