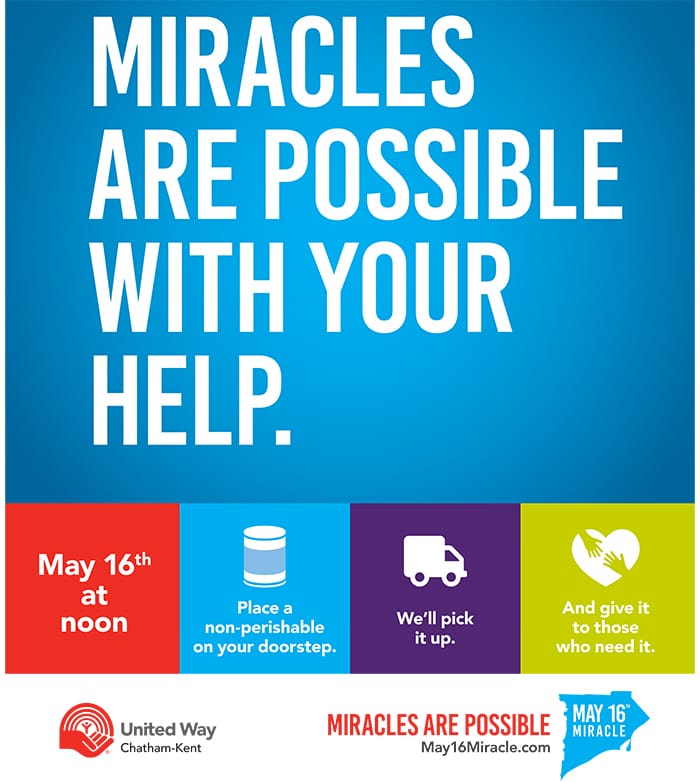 Jenna Cocullo, Local Journalism Initiative
Every household in Chatham-Kent is asked to place one can of non-perishable food on their doorstep on May 16 at noon.
Members of the community are coming together to organize the largest food drive in recent municipal memory, with a 100-per-cent response rate.
"Food banks across           Chatham-Kent are running very low, if not empty, in some cases. Demand has been high, which in normal circumstances, we can handle, however with this pandemic, the food banks never had a chance to prepare for the increased pressure on            their resources," said Reverend Tim Joyce of Blenheim Word of Life Church.
Resident Wes Thompson approached United Way with the idea only a couple of weeks ago and things have quickly moved since then.
"I know that people in Chatham-Kent want to help, and this is a small gesture that will make a big difference," Thompson said.
On Thursday night there were already 136 volunteers who joined in one Zoom call to plan the event.
Patricia Peters, director of Resource Development for United Way said this is a third party event for the organization, who is only supporting Thompson with technology and staff time, and it is the volunteers who deserve all the credit.
"Every single household is being asked to come together to answer the call," Peters said. "So now we're reaching every single community to break some records."
United Way is in the process of developing a survey on food banks to see what they need specifically. People can also choose to donate gift cards for local grocery stores.
"There is great need now to bring these food banks back up to normal and above normal food levels. Food banks, soup kitchens are the last hope for many of our most vulnerable citizens," Joyce said.
Peters said there is no shortage of volunteers for the May 16 Miracle.
"Everyone is wide open to those receiving and giving, and everyone is stepping up to the role."
Moréna McDonald, founder of 519 Events and Promotions, is giving her time to fill the role of event planner despite her business also facing hardships from the COVID-19 closures.
"It's something I would have done anyway, regardless if I had event planning experience or not. I just believe in this and helping out the community at large," she said.
McDonald explained that every community will have a designated captain to act as point person between their designated areas and their teams who will then reach out to Thompson.
Organizers are being mindful of safety protocols during the virus, McDonald said.
All volunteers they are engaging will have personal protective equipment and are working on finding a large space to leave the groceries for two days.
McDonald said when they first launched the initiative last Friday afternoon, her social media was full of the May 16 Miracle logo.
McDonald said they reached out to everyone they knew who had a strong social media and network presence to help spread the word, and the response has been extremely positive.
"I felt the energy coming through my computer screen. I never even thought that was possible.
McDonald said everything is evolving very quickly, with only three weeks left to plan the mass fundraising initiative and more information will be released shortly to the community.
But for now the message is clear, one can for one household on May 16.
"I think I've always known this about Chatham-Kent, and it's being exemplified, but our community is always taking care of our community. And they are answering the call. People are hungry and now we are making sure no one is left hungry," Peters said.
McDonald had a similar sentiment.
"I've always known this about Chatham-Kent. People are always willing to help out if there is a need. Especially now we are starting to see Chatham-Kent's generosity from all corners."