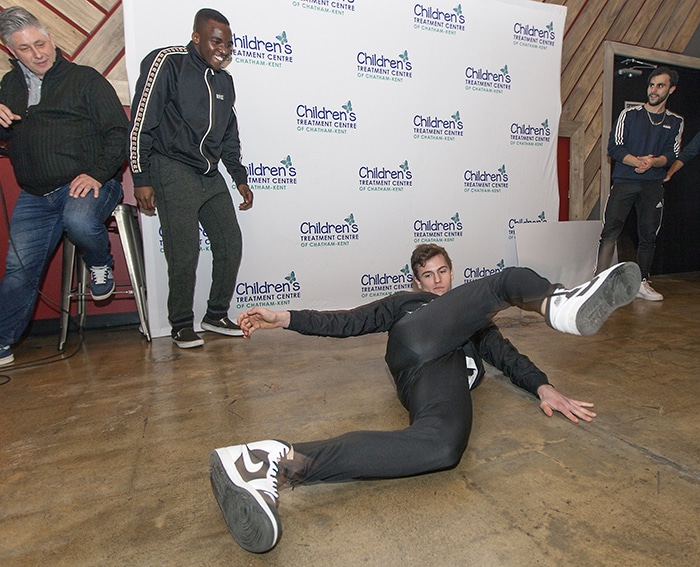 Fun, Fergie, fundraising and beer flowed Friday, as this year's Festival of Giving theme was revealed.
The Festival, a huge fundraiser for the Children's Treatment Centre of Chatham-Kent (CTCCK), takes place April 18 with the theme of "I Want my MTV," an ode to the early days of music videos and the crazy styles of the 1980s.
Tickets are on sale now at gigitmarketplace.com.
To start the evening, Sons of Kent ownership announced a donation of all the proceeds of Fergie Jenkins Pilsner, brewed and sold throughout the fall and winter to date, to the Festival.
With more than 44,000 cans of the beverage sold at the brewery, in LCBOs across the province and in restaurants, that added up to nearly $17,400.
Enter the Naclerio family and their firm, Apollo Group. They matched that total, bringing the donation to more than $34,000.
Festival co-chairs Chris McLeod and Tim Regan approached Sons of Kent with an idea in January of last year, with the Wide World of Sports theme planned for that year's event.
"We were having a couple of drinks and we thought, 'What about making some Fergie (Jenkins) beer?' That's about as much as we did," McLeod said.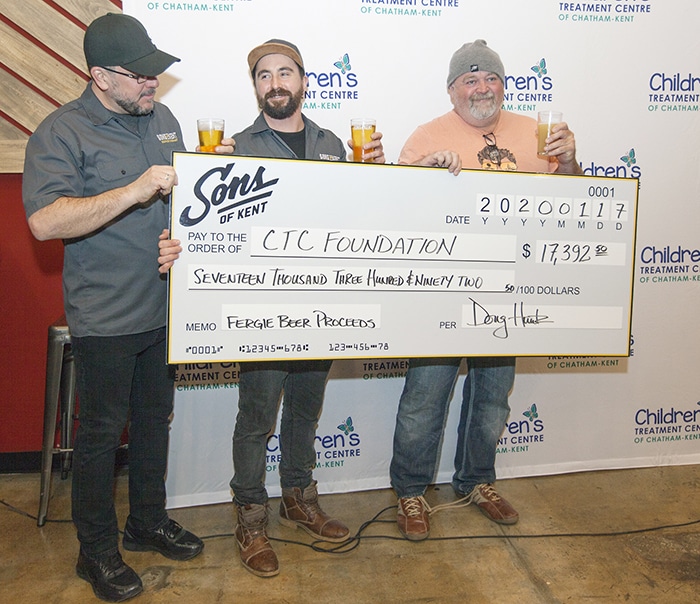 Colin Chrysler, one of the Sons of Kent founders, said given the theme of sports, the obvious first choice to put a face on the beer was certainly Fergie Jenkins, a Chatham native and a Hall of Fame baseball pitcher.
"When Fergie was willing to be part of this thing, we thought we couldn't do this justice in the short time we had (leading up to the Festival last April)," he said. "We thought, 'Let's wait for it, make it good, make it big and make it something to talk about."
So they delayed the Fergie Jenkins Classic Pilsner until Sept. 13. But then it really took off.
"The LCBO found out Fergie Jenkins was willing to have his face on a beer in the LCBO. We made it more of a provincial brand," Chrysler said.
He didn't realize just how popular the beverage would become.
"The donation was bigger than we ever would have thought. We made more beer than I ever would have imagined. It's great! The community has been so supportive," he said.
When Jenkins showed up at the brewery last fall, Chrysler said he toured the facility and signed cans for fans as well.
Naclerio said he became involved because of the work the treatment centre does in the community.
"It's a great cause. That treatment centre has a special place in my heart. It's the kids," he said.
Naclerio got on board and agreed to match whatever proceeds Sons of Kent would donate. He admits he was surprised, pleasantly, to learn they had done so well.
"I wasn't expecting it to be that high, but that's great. It's a great cause and it's going to a great place," he said.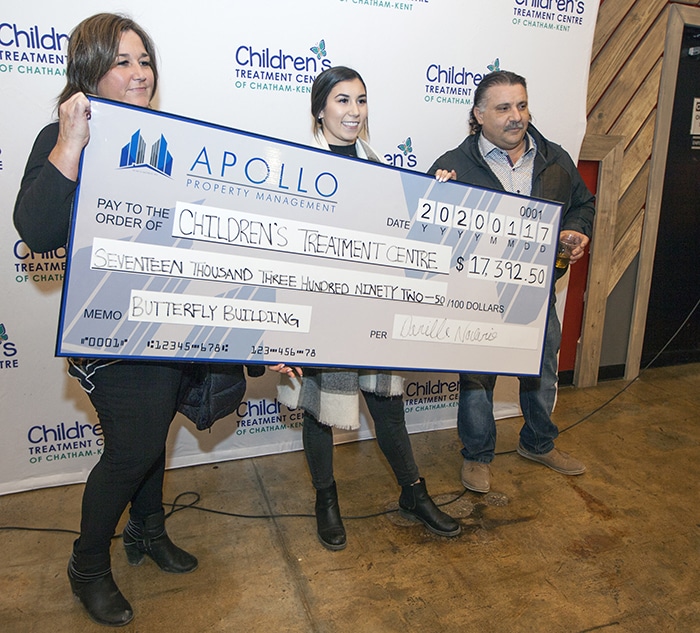 In terms of the giving, Chrysler added that isn't over with yet. He said Sons of Kent is no longer making the limited-time beer, but "there is still lots of Fergie Jenkins left, but only for a limited time. I would guess our donation will continue to climb."
Mike Grail, head of the Foundation of the CTCCK, said he was surprised and amazed by the support from Sons of Kent and Apollo.
He is also surprised organizers of the Festival, in its 19th year, can still keep themes secret for so long. It's part of the fun of Festival.
"FoG (Festival of Giving) has become the signature event on the C-K calendar. The way the committee keeps it fresh and we keep doing different things and offering a different look every year, it makes people want to come back," he said. "The main reason is it's for local charities and mostly for the Children's Treatment Centre. When you know you are going to an event and you are going to have a world-class event and you are also going to give back to your community and really have an effect on local children, how can it get any better than that?"
Grail said each year the foundation looks at areas of need at the centre and targets the funds raised from FoG to meet them.
"It's all driven by what the centre's requirements are. If there are any services that are not covered by the ministry (of children, community and social services) that are vitally important to the kids in this community, that's what we support," he said. "Lately, the last couple of years, we've been supporting the capital build. We need to get a new centre and we need to get those kids off the waiting list. We need to make a difference in C-K and set an example for the rest of the province."
The foundation has raised about $6 million to date, and need approval for $22.5 million from the province to build a new facility on McNaughton Avenue West in Chatham.
Comments
comments