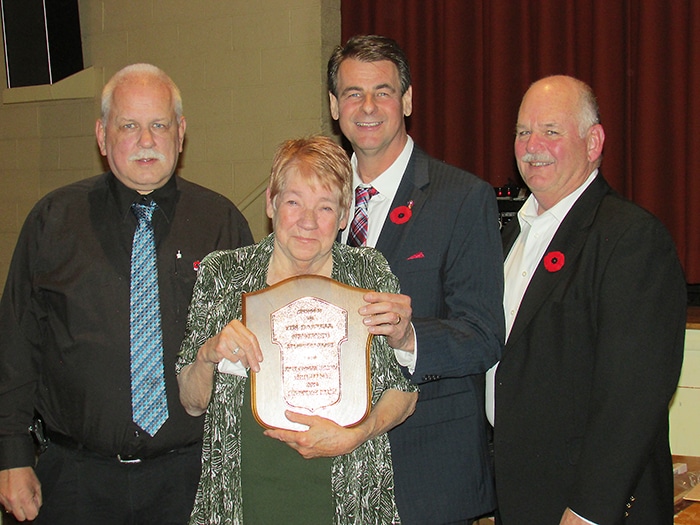 The Chatham Goodfellows held their 65th Annual General Meeting Nov. 7 and handed out several awards people important to their organization.
Handed out by Goodfellows President Tim Haskell and board member Tim Mifflin, there were two big awards.
The President's Award this year went to Chatham Towing's John and Barb Verkaik.
"This year's recipient has been doing favours for the Chatham Goodfellows for over 40 years. They are always available on a moment's notice to come to our rescue. No jobs too big; no jobs too small. Their example has caught on to their employees and business associates who are also anxious to be involved. A visit to the office could result in a request to make a monetary donation to our annual campaign," said Haskell in his presentation.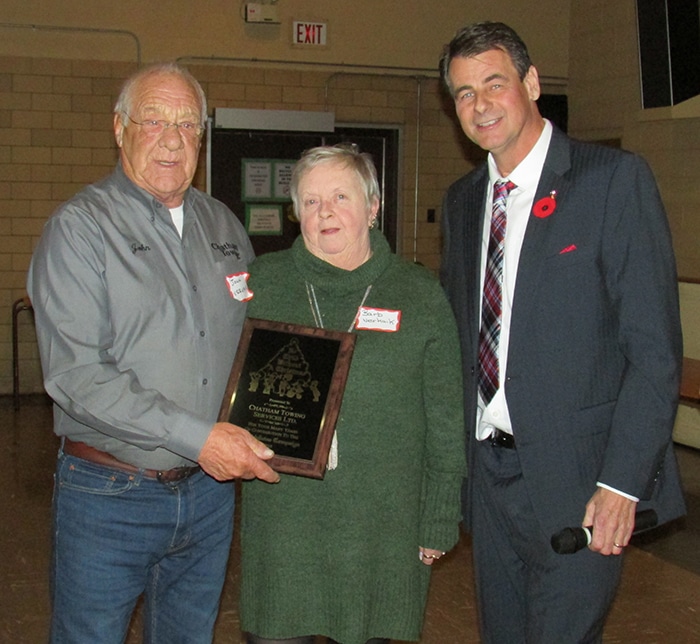 John accepted the award on behalf of his drivers who he said do the bulk of the work and are always willing to help.
The next award caused Haskell to choke up while talking about the recipient, his mom, Linda Haskell, who was named Mrs. Goodfellow 2019 for her tireless efforts over the years to help Goodfellows in any capacity she could.
"This years' recipient is always giving from her heart to make sure there is 'No Child Without a Christmas,'" Haskell said. "Our recipient works quietly behind the scene with toy packing, deliveries, where ever there is a need, including making boxes and packing toys."
Purchasing wool year round for the knitters and providing food and drink for Porchlight volunteers, Linda is a retiree from the Ontario Ministry of Correctional Services. While working at the former Chatham Jail, she made sure that a toy donation box was always at the Jail.
Linda lost her husband many years ago, and during the very difficult times, she relied on Chatham Goodfellows to ensure that her young children enjoyed Christmas. She never forgot receiving the assistance, and in appreciation, she has continually "paid it forward" by assisting Chatham Goodfellows. More importantly, she taught her children to be thankful for what they have and insisted that they also "pay it forward" for those in need.
Haskell also handed out some Certificates of Appreciation, including a media award to The Chatham Voice's own Michelle Owchar, and Amanda Thibodeau and Chris McLeod (Blackburn Radio).
Knitting – Annette Lozon and Agatha Sanson.
Toys Packing and Delivery – Eva Watson, Annette, Julia & Mark Sherbourne, Nicole Maine, Chad and Braden St. Pierre.
Street Sales Campaign – Uly Bondy, John Kehoe.
Porchlight Campaign – Tracey Jones, Sue Janssens.
Food Packing and Delivery – Sara and Frank Letourneau, David Trealout, Joe Faas and
Barb Jacques.