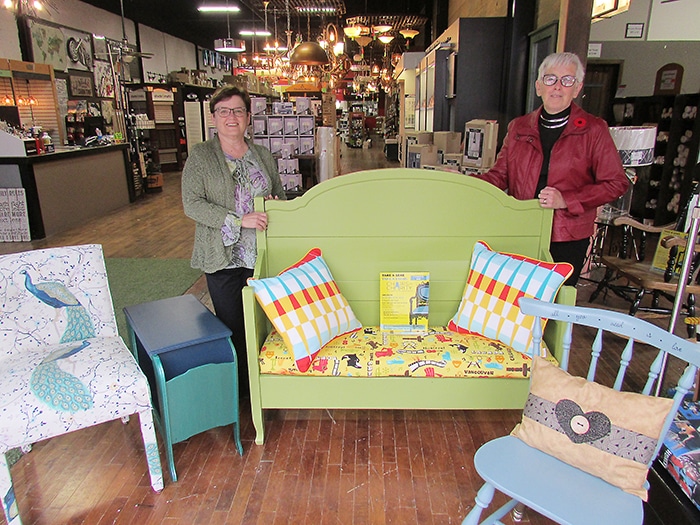 Sprucedale-Providence United Churches are asking people to take a seat and take a stand at their Chairs for Charity fundraiser event in support of the Canadian Foodgrains Bank hunger projects.
The event takes place Nov. 16 at the church on Victoria Avenue from 9:15 a.m. to 3 p.m., with a live and silent auction, speakers, a Mad Hatter theme lunch and there will be themed food baskets for sale at the event.
The main attraction, however, is the 45 one-of-a-kind hand refurbished chairs and benches that were donated by members of the congregation and re-worked in beautiful new works of art.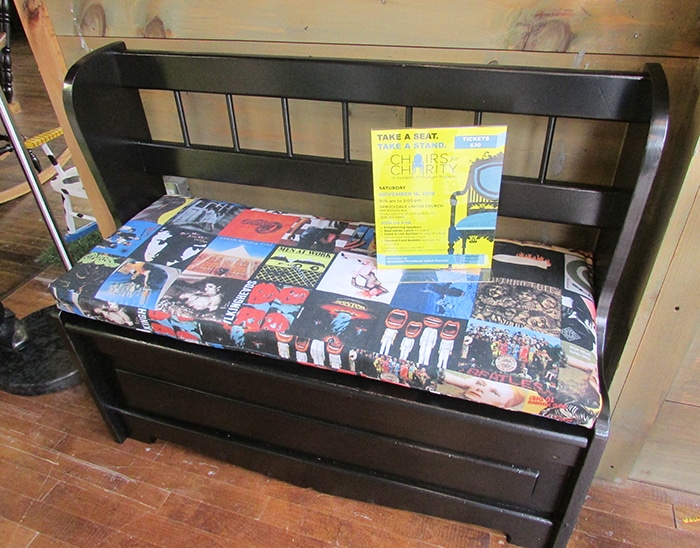 "We put out a plea in the spring for the congregation to donate old chairs in good condition, safety-wise," said Lynn Belback of the church's Faith In Action committee. "People responded very generously and we then approached people we knew with skills, including a retired upholsterer. People from 19 years old to 85 years old worked on the chairs. They've done a great job. No two are alike."
From a chair redone with a unique peacock design to a bench of Canadiana to one-of-a-kind album cover fabric from the U.S., each piece is the creative design of a church member. Belbeck and fellow committee member Janis Taylor said there many different themes and types of chairs, including designs for toddlers' small chairs, sports, gardens, rock and roll, music and one entitled, "She the North."
Belbeck said they came up with the fundraising idea after completing several local hunger projects, and while working on a global hunger project.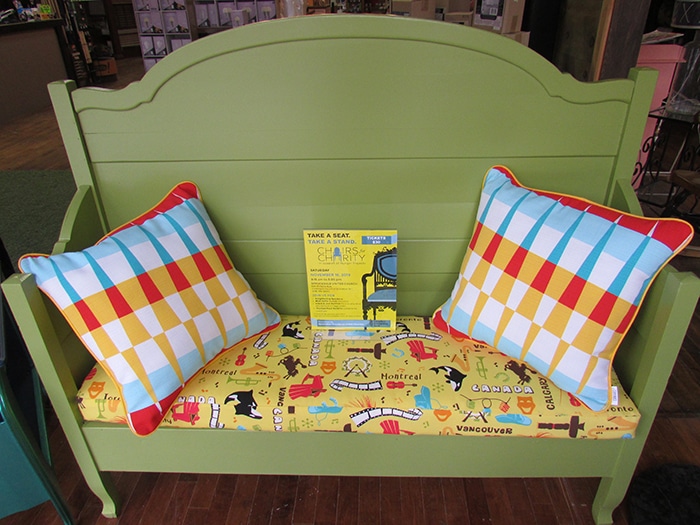 Canadian Foodgrains Bank originated in the 1970s and was the brainchild of prairie grain farmers. Belbeck said they have projects all across the country, with a farmer donating a field, a company the seed and then the farmer's time to harvest the crop. The money made from the crop goes to emergency food relief in Africa and Asia and to agriculture projects with partner agencies in the different countries.
Belbeck said one in 10 people go hungry when there is enough food produced in the world to feed every person.
"How can we better distribute what we have so no one goes hungry?" Belbeck asked. "Stats show that 60 per cent of the hungry are women, and one-third of the people who die from hunger are children."
To help with their project, Taylor said Fx Decorating on King Street in Chatham has been very generous with supplying paint, painting some of the projects and displaying some of the chairs up for auction in their store window.
J.M. Fry Furniture Design also helped by donating a chair to the cause.
Belbeck said it has been great seeing people get excited about the project, and while it is the first year for Chairs for Charity, they are pleased with the results so far. They are even saving the more "eclectic" chairs for the special reveal the day of the auction.
The event is open to the public and tickets are $30 in advance. Call the church office at 519-354-0660 for tickets or e-mail sprprov@gmail.com. Cash or cheque only.