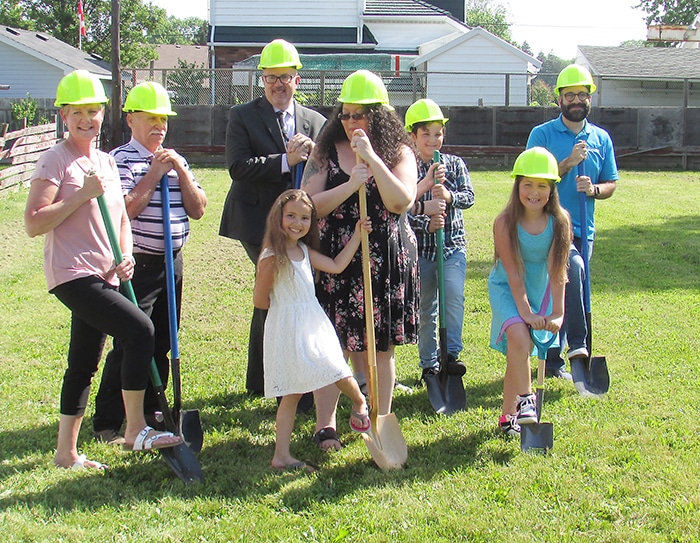 Four children and their loving aunt can't wait to move into their new home; except that it hasn't been built yet.
That will change this summer as Habitat for Humanity Chatham-Kent breaks ground on its sixth home build.
This time, Cassadi Pryor and her nieces Brooklyn, 10, Kailyn, 8, and nephews Gavin, 14, and Isaiah, 12, will benefit from the build on Woods Street in Chatham.
Pryor admitted her pride prevented her from reaching out sooner to secure a home for the children. But once she learned the home is a hand up rather than a hand out, she put her pride aside.
Habitat home beneficiaries are required to put in the sweat equity in their homes, as they put in many hours helping to build the dwelling and must pay a mortgage.
"I'm prideful. I don't like asking for help. I was raised not to be greedy," Pryor said. "It is almost hard to ask for something. But this gives me the pathway and tools to be helpful and makes me feel part of it."
Habitat's Melanie Austin said Pryor is dedicated to her nieces and nephews.
One of Austin's jobs is working with the benefitting families.
"They spend so many hours building sweat equity," she said.
Pryor said the people involved with Habitat for Humanity C-K are incredible and very supportive.
"Habitat has a way of letting you know your smallest journeys are huge. They back you up. 'How are you? What can we do to help you?' It's personal," she said. "These are people you are going to work with. They are really just extended family."
Pryor said the home is so much more than bricks and mortar for the family.
"It's a place they can always come to, a home they can always have to dream in and have a place of safety, of respect and of growth. This is where the nightmares aren't allowed to enter and all things magical are possible," she said. "They go to bed dreaming about this."
Nancy McDowell, executive director for Habitat C-K, credited the support of a wide range of volunteers and sponsors for making the builds possible. She said the municipality has been involved for years.
Darrin Canniff, mayor of C-K, said the builds are great examples of how the community comes together to help others.
"This is what makes Chatham-Kent so great. Success breeds success," he said.
Locally, affordable housing is a major problem with more than 350 families on the municipal waiting list. Habitat for Humanity C-K provides a permanent solution by building modest homes and selling them to families with an interest-free, geared-to-income mortgage.
Comments
comments