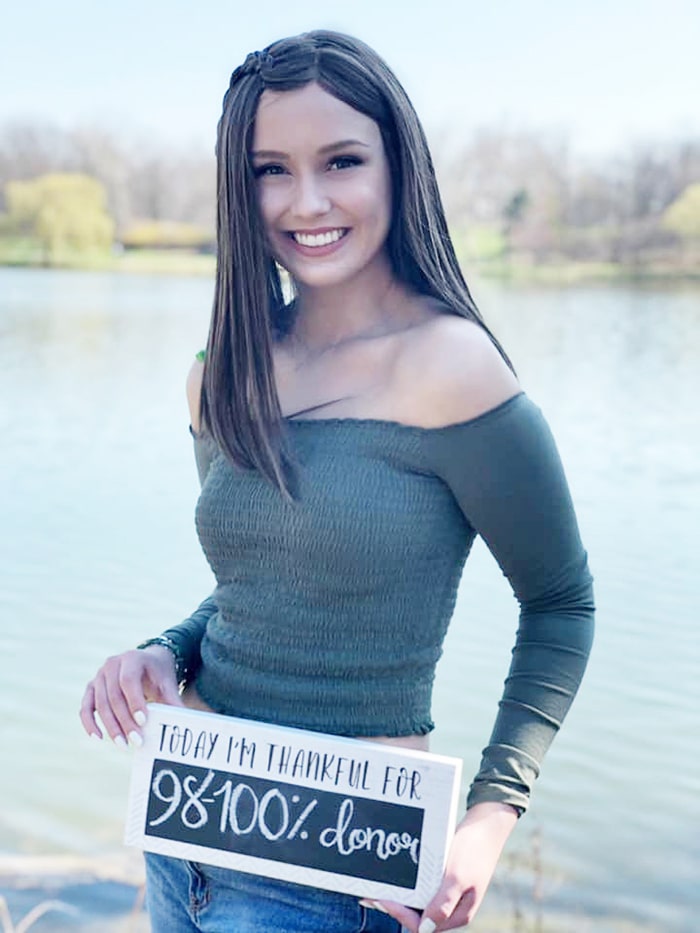 Two months after essentially winning the health lottery, Chatham-Kent's Jocelyn McGlynn has received more good news.
Diagnosed last year with a rare form of leukemia, Jocelyn learned recently her immune system has essentially been entirely replaced by that of her donor.
Getting the perfect match – 10 out of 10 categories – in February was the equivalent in luck to winning a lottery.
With a perfect match donor in place, Jocelyn, a student at the University of Western Ontario, went to the Rowell Park Comprehensive Cancer Center in Buffalo, NY and received a stem cell transplant in late February.
Those cells have been busy, her father, Peter, said.
Getting to where she is today has not been easy. Peter said doctors have wiped out her immune system three times via chemotherapy.
"The first time was to get her into remission. The second was to keep her in remission before the procedure, and then prior to the transplant, they wiped out her immune system again," he said. "And then they introduced the donor's marrow into her system. It set up shop and started building."
It's to the point now where her system is "98-100 per cent donor."
"The type of leukemia that Jocelyn had would have just returned otherwise," Peter said.
Jocelyn shared an emotional note recently via social media.
"Thank you to everyone for their positivity, love, prayers and well wishes during this time. I am beyond grateful," she said. "There is no trace of residual disease. Where my disease was, myeloid, I am 100 per cent donor cells. Words cannot begin to describe how full my heart is with gratitude and love."
Peter said the family is ecstatic these days.
"We're so happy. This is very awesome news. It gives you a little bit of pause to say 'thanks,'" he said.
Support for Jocelyn, not just in Chatham, but also across the region, was touching, Peter said.
"It's powerful to have a lot of people from Southwestern Ontario care about it," he said of Jocelyn's cancer journey. "It was amazing. It gave us strength. This is a young lady that not too many people were aware of in Southwestern Ontario before. And then to have all those people support us and our family."
That included long lines at blood donor clinics and swab clinics here in Chatham-Kent as well as in London.
Peter said the family initially was a little concerned about heading to Buffalo for Jocelyn's procedure. They shouldn't have been.
"Once we understood what we were about to go through, we had a little apprehension about leaving our country to go to the United States to get treatment, but everything fell into place," he explained. "Everybody at the Roswell Cancer Centre has been very good. Same with the London Cancer Centre. We're just so happy with the support we've been given."
One day, the McGlynns would like to meet the unnamed American donor whose stem cells were transplanted into Jocelyn. In the U.S., a donor can remain anonymous, if he or she so wishes. Otherwise, it's at least a year before a recipient can seek out the donor.
"We know he's 20 and don't know where he's from," Peter said. "Jocelyn would love to meet him and hug him and give her thanks for saving her life."
With the latest hurdle in her recovery out of the way, the next target time is late May or early June – when Jocelyn should be able to come home.
"We're obviously anxious to have her back in Canada and have her home," her father said.
Jocelyn is a medical sciences student at Western. She hopes to one day become a doctor.