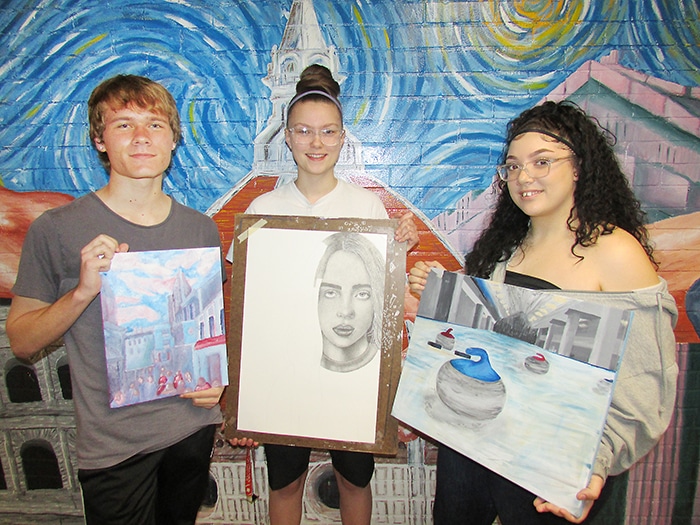 Students across Chatham-Kent will be showcasing their artistic talents at a Student Art Show May 2-9 at the Downtown Chatham Centre, near the escalator in the former Platinum store.
Hosted for the third year at the DCC, the juried art show is a result of the collaboration of the visual arts teachers at high schools across the municipality who wanted to give their students a chance to show their work and get valuable feedback.
Jenn McQuade, visual arts teacher at John McGregor Secondary School in Chatham, said she was very pleased her students are taking part in the show with multiple pieces using various techniques and mediums.
Three of her Grade 12 art students, Samuel Pletsch, Alexis Desjardins and Nevaeh Fox each are entering multiple pieces in the show.
"I like art because it lets me express what I'm feeling and show a deeper part of me and what affects me in my life," Pletsch said. "It also helps me centre myself and concentrate because it's very relaxing. I always want art in my life and would love it if it could be incorporated into what I do."
All of the pieces Pletsch does are memories of people or places and things that had an impact on his life. One piece he is showing is an acrylic painting of a favourite street in Paris, France, with Sacre Coeur church in the background.
For Desjardins, who was working on a portrait using a stippling technique with a 0.1 mm ink pen, said art can be a "love/hate" relationship.
"It's a lot of dots. I started stippling in Mrs. McQuade's class in Grade 9 or 10," Desjardins said. "I've been working on this piece since February, on and off. It is very time consuming."
The detail in the face Desjardins was working on was amazing and she said she tends to work better at home, but has grown as an artist to be able to create in the classroom as well. She said the small dots allows her to include more detail in her work.
One piece Fox was working on was a sports-themed acrylic that was on display recently at the Festival of Giving for their Wide World of Sports theme.
"I started art in Grade 9 and have been taking it all the way through, and this year, I took it both semesters," Fox noted. "I think art in school is really important because it gives you something, where you can be you, and make what you want. It's your take on something and you can put yourself into the piece you're doing."
Fox said she never would consider herself an artist, but creating a piece to be judged in an art show makes her feel like she is an artist.
Desjardins and Pletsch agreed that art is an important outlet, both creative and emotional, for students.
"It's super important. Depending on the student, they'll use art for different things, but certain students need it to calm down after a hard day at school, or to get something out and off of their chest; and others just really want to create something and see how far they can push themselves. So, no matter what, art is very important to student lifestyle and in general, it's important for anyone. I feel like art is something everyone should do at least once," Pletsch said.
The students used the Obliteration Room at JMSS last year, a project where a white room with furniture was covered in different sized colour dots, as an example of how people with no artistic talent found the process of placing stickers very comforting and relaxing.
Desjardins said she would place stickers on one of the chairs during every spare, and found it a soothing exercise.
To be a part of a juried art show, the Grade 12 student said she doesn't focus so much on what people think of her art, but likes being able to put her art out there and give people a chance to see it.
Pletsch said he likes being a part of the show because he likes to know what people think of his artwork, compared to others.
The juror this year is Lee Highgate who is a former Visual Art and Drama Teacher from Petrolia.
The public welcome to come and see the art created by students starting May 2 from 3 p.m. to 9 p.m. The show continues Friday, 3 p.m. to 9 p.m., Saturday 10 a.m. to 7 p.m., Sunday 11 a.m. to 5 p.m., Monday to Wednesday 3 p.m.-6 p.m. and Thursday, May 9, 3 p.m.-9 p.m.
The Awards Reception is May 9 at 7 p.m. at the DCC.
McQuade wanted to thank the management of the DCC for their generosity in hosting the art show and making it possible the past three years.