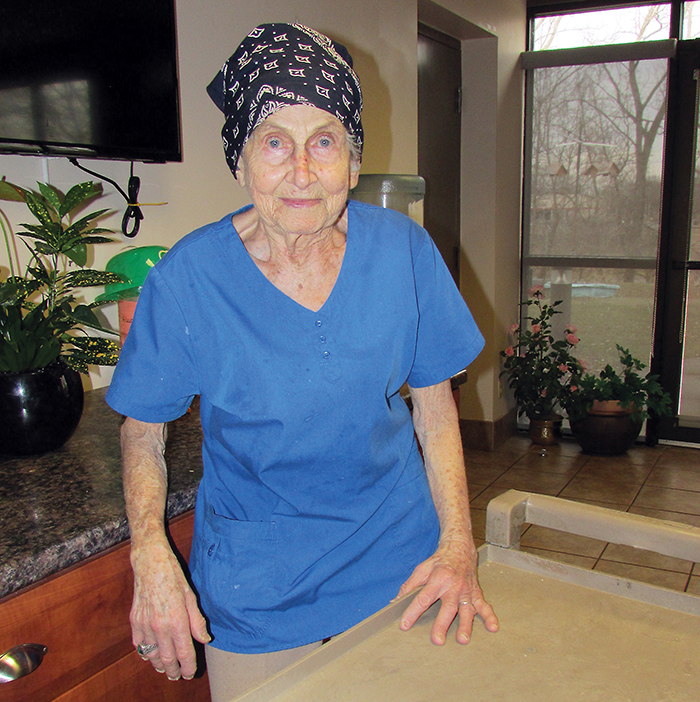 She may be 94 years old this year, but that doesn't stop Frederica Polak from spending three days a week volunteering in the kitchen at the Active Lifestyle Centre in Chatham.
Known affectionately by staff and the public as Freddie, Polak has been volunteering at the ALC for 19 years, clearing tables and doing dishes in the café and kitchen area.
Originally from Czechoslovakia, in a German-speaking part of the country, Polak said her first language was German but her family was Jewish. She and her parents and siblings were forced from their homes during the Second World War and interred at the prison camp in Auschwitz. She was 12 at the time.
"There are not many people left my age who survived the war," Polak said, taking a break from cleaning to chat. "I am Jewish and was in the concentration camp where I lost my parents."
Polak doesn't like to talk about her time in the concentration camp as it was a very painful time in her life, and she sees it as the past. She was approached a few years ago, however, by a teacher at St. Mary's Catholic School in Blenheim, and asked to speak about her experience as a Holocaust survivor. Polak said the teacher thought it would have a big impact on the children to hear about that time in history from a survivor.
"There's not much to talk about; it's the past, but I went and spoke to the school children in Blenheim and I had a good feeling when I left. The children asked questions and were very good," Polak said of the experience. "What I told the children was they were so lucky to live in Canada because it is the best country in the world."
Married to Tomas after surviving the concentration camp, Polak lived with him in Austria until they decided to get away from Europe and its memories and move to Canada. She was 43 and her husband was 50 at the time. She said they settled in Dealtown, and Polak got her first job at the Southwest Regional Centre, where she worked for 22 years until 1989.
"From the beginning, we were lucky because we always had what was necessary. We had very good neighbours and everyone was very nice to us," she noted. "German was my first language and we had to get used to a new place but people helped me with the language and our neighbours were very good to us."
One of those neighbours was John Schofield, father of The Chatham Voice's own Sarah Schofield, who introduced Polak to the ALC after her husband died. With no car or licence, she relied on neighbours to give her a ride. Soon, the centre became her home away from home.
"I'm not one for cards or games, but I can clean. Everyone here is very nice to me and that's why I like it here. It's my second home really," Polak said.
She quickly became a big part of the volunteer core and is beloved by everyone who gets to know her.
"We love our Freddie," said ALC Activities Director Jan Reinhardus. "She is incredible and never misses a day. She is actually very upset if she misses a shift. I can't imagine this place without her."
Still in her home in Dealtown, Polak is at the ALC three times a week and wants to keep her independence as long as possible. She has two children with grandkids and great grandkids who she speaks about with pride.
The long-time volunteer said her work at the centre gets her out of her house and fulfills her need to do something good with her time.
"I can feel it; I'm getting older. You can't deny that but I want to be independent for as long as possible."
Comments
comments