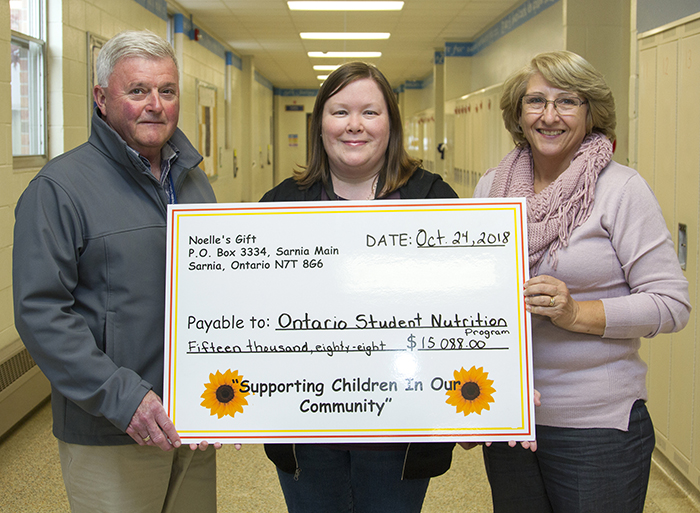 Seeing students going to school hungry is not an uncommon sight for teachers in Chatham-Kent, but with a donation from Noelle's Gift for $15,088 to the Ontario Student Nutrition Program, a difference is being made.
Helping to provide thousands of students within the three local school boards with a combination of breakfast and healthy snack programs is helping to solve a very real problem, said Tecumseh Public School Grade 1 teacher and Noelle's Gift committee member Jodi Mandeno.
She said a number of her students access the snack bucket filled with items such as cheese, apples and bananas each morning and a few throughout the day.
"Kids are hungry all day. If they are hungry, they can't learn," said Mandeno. "They may be misbehaving. So if they ask for something from the snack bucket, I say, 'Absolutely,' knowing that it is healthy and their parents won't mind."
Improved behaviour is not the only positive effect of having free snacks available, as there are better attendance and academic results too.
While some of the older students may be a bit self-conscious to help themselves to snacks, C-K Public Health Student Nutrition Program Co-ordinator Allan Davies said that is slowly disappearing with the amount of time the program has been in place.
"Now high schools are exploding because of the acceptance by the students and the staff," said Davies.
Established by the friends and family of Noelle Paquette, a Sarnia teacher who was tragically killed in 2013, Noelle's Gift has been keeping Paquette's memory alive.
Before the program and like Paquette, Mandeno said she used to bring extra snacks from her own home for her students.
"She wanted students to grow up great. She would bring in food, school supplies for her Kindergarten kids. She was very passionate about taking care of her own kids," said Mandeno of Paquette.
"It makes me emotional because it really helps us."