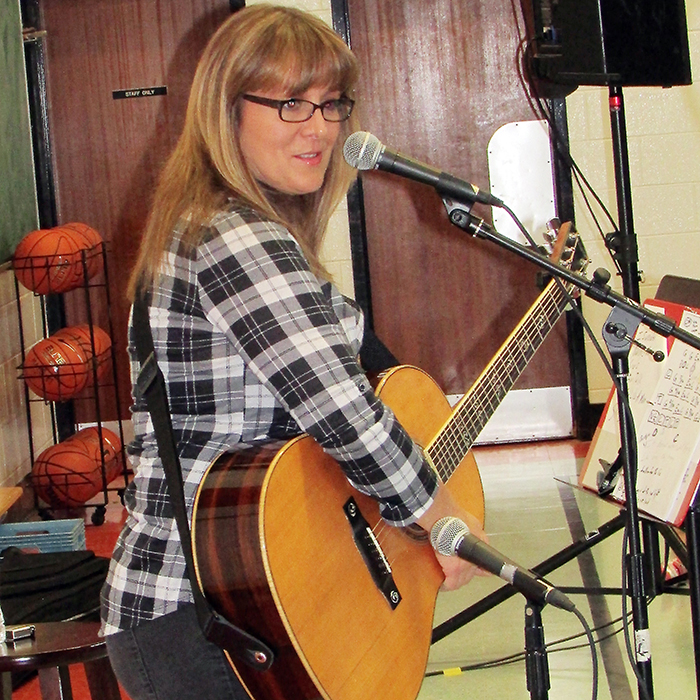 Canadian country music legend Michelle Wright may have travelled the world performing to millions of people, but the Merlin native certainly knows where home is.
Wright, just a day prior to her fundraising performance at The Chatham Capitol Theatre to benefit the Friends of the New Animal Shelter, returned to her old elementary school.
She spoke and sang to the students and staff at Merlin Area Public School Thursday morning in the gymnasium.
If Wright could have wrapped the school around her like a blanket, she may very well have done so. She said being at the school just felt "comfortable."
"Growing up in this little town was really, really good for me," she said. "I got a lot of support here."
Wright didn't just play to the kids; she interacted, and offered advice and positive reinforcement.
She said the night before her visit to the school, she reached out to family for advice on what to play, wanting to ensure it was age appropriate music.
Wright was surprised to learn while sitting around the Jansen family dinner table that her own "Shut Up and Kiss Me" receives the thumbs up at the school.
Her first song to the kids was her 1992 hit "Nobody's Girl," and she offered encouragement to the female students present.
"But we're somebody's girl. We're girls from Merlin, right girls?"
As for performing and speaking at her old school, Wright said she enjoyed it.
"It's fun for me to be on this side. I remember being in the gym and sitting on the floor when special guests were there," she said.
Five of Wright's nieces and nephews currently attend the school. She called upon several to come up and sing a Luke Bryan song with her, using an iPad for accompaniment.
Included in Thursday's show was "Strong," which Wright recorded in 2013. Wright asked the kids to really pay close attention to the lyrics and the song's anti-bullying message.
It certainly wasn't the only message delivered Thursday.
"If you have a dream, whether you want to be a singer, a doctor, work at a school or on a farm, it's going to take work; hard work," Wright stressed. "Be dedicated. You can't get discouraged. It took me 10 years to get a record deal."
Wright also fielded questions from the students, with the first being, "Are you a mommy?"
"Because of my music career, I didn't have babies, but I have five dogs," she replied.
In fact, she is down to two dogs at her home in Nashville, because three had to be put down, but she still keeps them close to her heart.
Wright has performed across the globe, playing as far away as Australia and Europe. She's also gone far and wide to play to members of the Canadian military, performing in Alert, Nunavut, the most northerly permanently inhabited place on the planet, and Afghanistan. The heat of the Afghan summer actually cracked the face of her acoustic guitar, which she showed to the students.
Wright told the kids she started playing drums just after leaving Merlin school, at age 12. A year later, she switched over to guitar.
That positive attitude has served Wright well over the years. When asked by a student if she ever wanted to quit the music business, she was quick to answer, adding her answer applies to all endeavours.
"No, I never wanted to quit. You can't do that," she said. "You can take a break, get a good night's sleep, but never quit!"
Wright encouraged the students to think big.
"Lay in bed at night and dream the biggest dreams you can. I want you to do that for me," she said. "Don't let the difficult times get you discouraged."
Tracy VanDenBossche, who made the call to see if Wright would come to the school, loved the visit, and thinks the kids, many of whom weren't born when Wright was penning her biggest hits, got a great deal out of the visit.
"This was all for the kids. They knew her name, but we wanted to put a face to that name," she said. "She sent a great message today."
Wright said the pleasure was all hers.
"I was just happy to come and hang out with the kids."
She came to Chatham-Kent well in advance of her band, which arrived late Thursday before preparing for Friday's performance. She hung out with family and old friends, stepping back in time with a group of former school chums.
"I met up with friends for dinner a couple of nights ago. It was like no time had passed," Wright said.