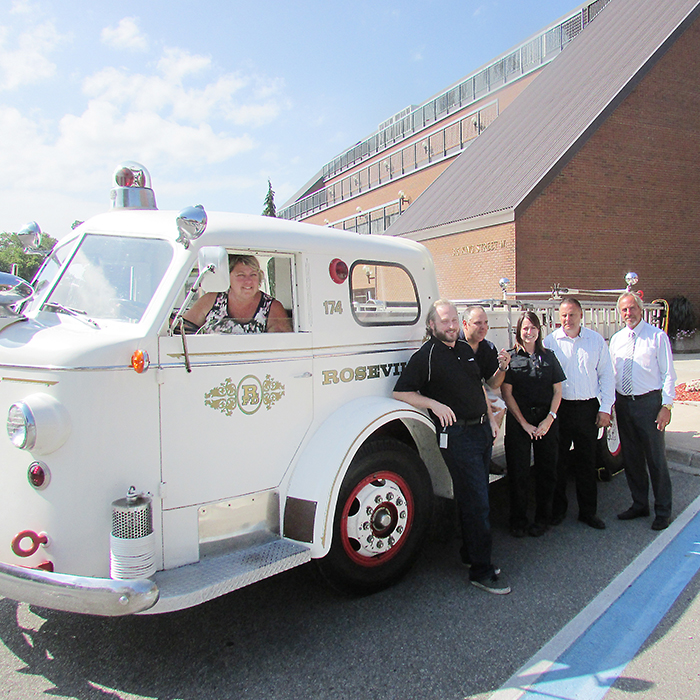 Growth is the key word for this year's Chatham-Kent FireFest Sept. 16 and 17.
Not only is the number of vehicles expected to reach the 100 mark, but for the first time, the event is growing beyond the boundaries of the former city of Chatham.
FireFest has partnered with IMaze that has created a 10-acre corn maze at its Thamesville property. The maze is a representation of a 1927 Stuart fire truck restored by Blenheim Coachworks for the Ingersoll Fire Department.
IMaze spokesman Ingrid Dieleman said the maze is an opportunity to give back to the community.
"Our community really matters to us so we were happy to be able to work with FireFest and provide free admission to the maze for the event."
Dieleman said her family has been working on the design since May, double planting rows, marking the trails with paint, cutting the corn and then grooming the trails.
"It's about 70 man hours of work," she said.
The five-kilometres of trails in the maze will be patrolled by "corn cops" who can guide anyone who loses their way. Trivia cards with corn-related questions will be placed strategically in the maze, the answers to which will supply directional clues.
The maze is open from 5 p.m. to 9 p.m. Friday and there will be free food for those attending. Those interested in touring the maze should register online so that organizers have enough food on hand for the crowd.
Event chairman Brent DeNure said in its five-year history FireFest has already become the largest of its kind in Canada and one of the largest in the world.
He said the event has an excellent reputation and as such, is drawing vehicles from across the Midwestern United States and a number of first-time exhibitors.
Special vehicles coming to this year's event include a 1917 Canadian made horse-drawn pumper, a rare 1961 Crown fire engine that served Corvina, California and a 1965 Mack pumper from Windsor that provided aid during the 1967 Detroit riots.
DeNure said the appeal of the vehicle portion of the downtown Chatham event has spread past just fire trucks to include police and emergency vehicles.
In addition to vehicles, Saturday will be filled with a junior firefighter challenge, demonstrations of fire fighting skills and the opportunity for members of the public to go head-to-head with a firefighter in using an extinguisher.
Other events include Stan the Magical Fireman, Firesound, a band comprised of Toronto firefighters who play fire-themed music, the Detroit Fire Department clown team and special appearances by Marshall and Chase of the Paw Patrol television series.
In addition to showing off fire culture, the other purpose of the event is to increase fire safety awareness.
Chatham-Kent Deputy Fire Chief Phil Thorburn said it is easy for residents to become "too complacent" regarding fire safety in their homes.
"We like any opportunity to get our fire safety message out," he said. "People feel very comfortable and very secure (at home) but that's where the biggest risk exists.
He said homes with working smoke and Co2 detectors and safety plans decrease the likelihood of serious fires."
Chatham-Kent Fire Service public educator Whitney Burk said firefighters will demonstrate how persons are extricated from damaged vehicles and how they manoeuver through confined and dangerous places during a fire.
DeNure said more than 15,000 people are expected to walk along the King Street area and praised event sponsors.
"This event is free and a major reason for that is the strong sponsorship base," he said.
"We believe in being a big part of the community, and that includes supporting events that touch the lives of its 350 employees. We're incredibly grateful for the opportunity," Fraser McNaught of TekSavvy said.
Kim Davis, a spokesman for the St. Clair College Alumni Association that is sponsoring the corn maze, said her group has been on board with the event "since day one."
He also said cooperation from Chatham-Kent, especially Mayor Randy Hope, is crucial to the success of the event.
Hope said it is "great" working with the committee to produce something that has gained regional and national status.
"This is something we can be proud of," the mayor said.
Comments
comments