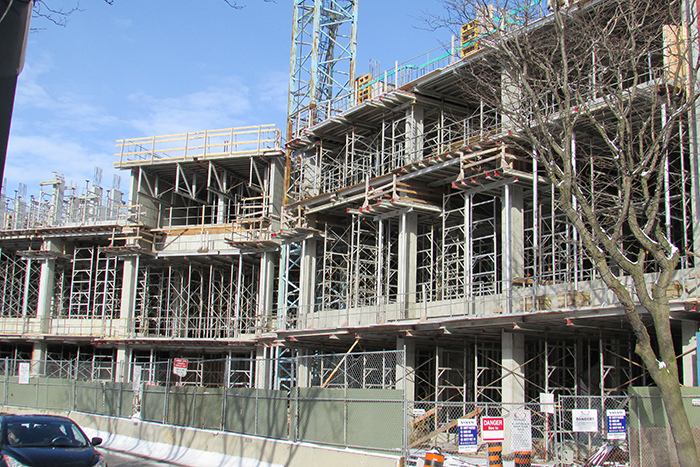 It appears developers of the empty concrete shell that looms over downtown Chatham may finally have to answer questions about the project.
For some three years, the Everlast Group has blocked a city sidewalk, part or all of two municipal streets and reduced core parking for its Boardwalk on the Thames condominium development.
The municipality has set aside more than $200,000 in incentives for the project, money that could be used for other projects.
Now councillor Doug Sulman is asking some tough questions about when the project will be completed and whether the developer is paying a fee for its use of municipal streets as is done in some other communities.
Questions concerning whether there was a "wink and a nod" agreement allowing Everlast an infinite amount of time to complete the work need to be answered, at least in terms of usage of public property.
Aside from safety infractions and labour issues, the project has been dogged by controversy including the motive behind the mayor's sudden desire to move the Chatham Cenotaph away from the project (thereby increasing ease of access to it).
Only when it was noted the Cenotaph sits on the site of a battlefield was the notion discarded.
We'd love to bring you the answers to progress on the building but the developer hasn't returned our calls in years.
We don't operate as a public relations arm of the developer, gushing over the project's state of the art balconies, the 80 per cent sold figures given out years ago, the new, even better crane on its way or claims about the weather.
We did some investigative journalism about a similar project Everlast undertook in another community and what we found didn't inspire optimism.
Everlast has been in business for decades so it's not as if the firm shouldn't be capable but we wonder where Chatham ranks in terms of priorities.
We welcome the Boardwalk; we believe a downtown residential development is not only desirable but also eminently possible.
Whether its possible under Everlast may be another matter.
Comments
comments